Hockey Player Breastfeeds Between Periods Like A Boss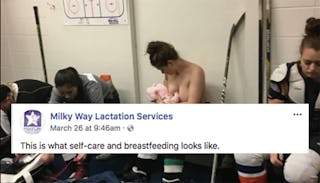 Image via Facebook/Milky Way Lactation Services
Breastfeeding mid-game is business as usual for this new mom
A mother's job is never done — even when she's working. And sometimes that means breastfeeding your child whenever, wherever they need it. For one Alberta hockey player, it means feeding her baby in between periods of a game. She decided to share the photos in the hopes it will help other new moms overcome the stigma many still feel breastfeeding in public.
Serah Small, a 24-year-old teacher and Grovedale Vipers hockey player from Grande Prairie, Alberta, posted a photo to Facebook while breastfeeding her eight-week-old daughter, Ellie, mid game. Her mom captured the sweet moment and after some consideration, Small decided to share it with the world.
"She was in the dressing room — she's played hockey since she was four years old and hockey's been a part of her life — I just watched her and she was getting ready and she was sitting there and she was breastfeeding her daughter and I never saw anything more beautiful in my life," Small's mom, Dena Lanktree, told Huffpost Canada.
She also sent the photo to her lactation consultant who shared it on her Facebook page, saying in part, "You CAN continue doing the things you love. You CAN do them while breastfeeding. You don't have to pick one or the other. Babies can breastfeed anytime, anywhere. So do the things you love to do, and keep your baby close. You'll both be happier in the end."
"I feel very empowered when breastfeeding uncovered and feel that as a young, confident mom that I can help change the stigma of breastfeeding and help normalize it. Because it should be seen as something beautiful and normal. Breastfeeding is done anytime, anywhere," Small tells HuffPost.
The new mom told Huffpost Canada she's tried covering up to feed Ellie in the past, but she had trouble latching and Small struggled to look through the cover to help her. So she decided the hell with it, she was feeding her uncovered and figured people who felt uncomfortable could just look away.
Amen to that. It's crazy that moms still have to concern themselves with how and where they feed their child because of the possibility of offending complete strangers. Every picture like this helps normalize what's already a normal, natural experience.
"I have been so scared to post this photo that I absolutely adore. Why? Because society has made breast sexual," Small wrote on her Facebook page. "Although at times I feel the burn of judgemental [sic] eyes I feel more empowered than anything to be able to meet my babies needs the way my body intended. Forgetting my pump created all new challenges for me as well. I felt my milk come in and leak as I played and between periods I would strip down to feed my 8 week old babe.
"Our bodies are amazing," Small finished. "And this weekend was the first time I truly appreciated mine."