Alcoholic Push Pops: Because We're Adults And We Do What We Want
by Thea Glassman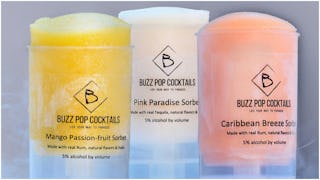 Image via Buzz Pop Cocktails
Alcohol + push pops = dreams really do come true
Are you ready to combine your favorite childhood snack with your favorite adult "snack"? Well, prepare yourself, because alcoholic push pops exist, and you're about to get so, so delightfully buzzed. Word to the wise: the following pictures just might make you drool. Like, a lot.
The new line of boozy treats is called Buzz Pop Cocktails and they come in eight different Italian sorbet flavors: Southern Belle, Pink Paradise, Mango Passion Fruit, Blueberry Mania, Moscow Mule, Caribbean Breeze, Watermelon Patch, and Lemon Drop Martini. I don't even know what Pink Paradise is but I want it ASAP if not sooner.
The pops are filled with 15% alcohol content and, hello, pleasantly toasty already. There's a variation of different booze to choose from (tequila, vodka, rum, whiskey) and the total calorie count is less than 100. So, yes, the dessert of the summer has officially arrived and you won't even feel like you have to eat a salad or something to make up for it.
https://www.instagram.com/p/BjwwUlBFYmx/?hl=en&taken-by=buzzpopcocktails
I mean, have you ever seen anything quite so delightful? Passion fruit sorbet + rum = a combination I want/need in my mouth immediately.
Alright, now let's get down to the nitty gritty. You can have an 8-pack delivered to your house (because you really shouldn't have to chose between Caribbean Breeze and Moscow Mule) or buy them individually at participating restaurants in Las Vegas and Miami. The 8-pack will set you back $99 but it's summer, it's getting so hot, and we could all use a little TLC right about now.
And nothing says TLC more than a Blueberry Tequila push pop.
Now, go have your best, most boozy summer yet. No one will ever have to know that you're quietly getting wasted off of a push pop.