Aldi Is Offering Free Alcohol Delivery For The Entire Holiday Season
by Madison Vanderberg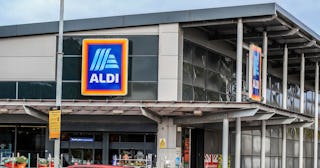 Peter Byrne/Getty
Aldi and Instacart offering free booze delivery throughout the holiday season
As if we didn't have enough reasons to love Aldi, they go and hit another home run. First, they serve up "quality food" at "everyday low prices," they have been known to sell "wine advent calendars" for the holidays, and now they've just announced that they will offer free alcohol delivery from now until New Year's Eve.
Without fail, there's always a Thanksgiving or Christmas meal that's short on booze. Sometime around 7 pm the night before the big holiday celebration, you realize the guys drank all the beer watching the game, and nobody remembered to bring wine, and cousin Kelly only drinks vodka sodas now, and then you're left wondering who has to run out and pick up some more booze, and it's just a holiday headache. Thanks to Aldi, you can now place orders for both food and booze via Instacart and throughout the holiday season, all delivery fees are free ninety-nine.
"The busy holiday season is fast approaching, making convenience more important than ever, and adding alcohol delivery to our online offerings is one more way Aldi saves you time," an Aldi spokesperson said in a press release (via EatingWell). "Our award-winning wines range from less than $5 for 90-point rated Evanta Malbec to $12 for premium offerings, such as 92-point rated Peaks & Tides Cabernet Sauvignon. You can have a bottle delivered to your doorstep in as fast as an hour."
To take advantage of this offer, you need to download Instacart. Place an order for Aldi delivery through Instacart and punch in the code "ALDIHOLIDAY19" at checkout, and voila — Pinot Noir delivered right to your door. The free delivery code expires at the end of the year, but you can still order alcohol through Aldi and Instacart into the new year. All Aldi stores across the country will participate — state and local laws permitting — and Aldi promises delivery times under an hour.
Pop on your jammies, grab your wine glass, sit back on the couch, and wait for the doorbell to ring. Happy holidays!