Aldi's Wine Advent Calendar Will Be In Stores Tomorrow
by Julie Scagell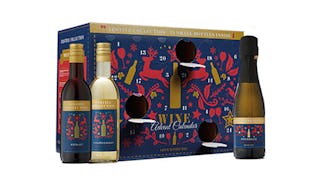 Image via Aldi
Twenty four mini bottles of happiness just in time for the holidays
Wine lovers, rejoice. Aldi's uber popular wine advent calendars are finally coming to stores in the U.S., and judging by previous years, these puppies won't last long.
Starting November 7, Aldi's wine advent calendars will be available in grocery stores nationwide. Sure, they're not super cheap coming in at $70, but they boast 24 (yes, 24) mini bottles of red, white, rosé, and sparkling wine. Never has a countdown to Christmas brought so much joy.
The reds include a Shiraz, Malbec, Cab, Pinot, and Merlot. The whites include Pinot Grigio, a couple Chardonnay's, and Sauvignon Blanc. They also threw in a few pinks just to round things out. There are still some states that prohibit selling alcohol in grocery stores so if you're one of those unlucky ones, you may want to phone a friend and have them pick one up on the down low.
"Back by popular demand, our amazing 2018 Aldi Wine Advent Calendar features a fabulous new design to create the perfect centrepiece – after all, what could be better for getting in the Christmas spirit than an adult advent calendar full of wonderful wine?" Aldi said.
Because of their popularity, there's a limit of one calendar per customer per visit, so bring a change of clothes and a wig so you can pop out to the car, change real quick-like, and head back in for another. Honestly, with today's election and the holidays in general, why wouldn't you buy one (or six)?
And what goes well with wine, you're probably asking? Cheese, of course! Aldi is also selling a cheese advent calendar for the low, low price of $13, which includes 24 imported mini cheeses because Aldi loves us and wants us to be happy.
This is the first time these Santa's helpers will be available in the U.S., which is exciting. We're sure Aldi execs were like "Listen, these Americans have been through enough already, let's help a sister out." And for that we say a collective, "bless you."
"Delivered in a beautifully decorated box Aldi's Wine Advent Calendar has 24 doors, each revealing a rather special treat. Discover a mix of red, white and rosé wines and a few special bottles of bubbly too in our strictly adults only advent calendar. It's the perfect way to say cheers to the festive season!"
If wine isn't your jam, they are also releasing a gin advent calendar. Unfortunately, gin lovers only get 12 days to celebrate instead of 24 but hey, beggars and all that.
This article was originally published on