'I Know My Dad': Ireland Baldwin Defends Alec Baldwin After 'Rust' Shooting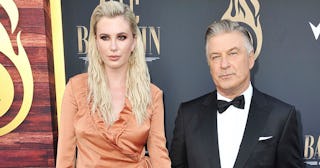 Richard Shotwell/Invision/AP/Shutterstock
Ireland Baldwin comes to Alec Baldwin's defense after he receives 'threatening' about Rust cinematographer's death
Last week, the world was rocked with the news that actor Alec Baldwin fired a prop gun on the set of his new movie Rust that contained a live round of ammunition and ended up killing the film's cinematographer, Halyna Hutchins. Since the tragic accident, Alec has been the subject of hate and derision and his daughter Ireland Baldwin has come to his defense.
A tragic on-set accident last week led to Alec being handed a prop gun containing live ammunition.
The gun went off as Alec rehearsed a scene for the movie Rust on Thursday, October 21, 2021, killing cinematographer, Halyna Hutchins and wounding its director, Joel Souza. Per The New York Times, Assistant Director Dave Halls has since revealed that he did not check each round and each chamber of the gun, which seems to explain how Alec was handed a gun containing a live round of ammunition, though Halls insisted at the time that the gun was "cold."
We can't imagine what Hutchins' family is experiencing right now and for Alec and his family too, what an unthinkable tragedy to have occurred.
Sadly, not everyone is showing up for Alec with empathy, so his daughter Ireland is sticking up for her father.
Ireland, whose mother is Alec's ex-wife Kim Basinger, shared a sweet message from a fan about her father and captioned it with this personal message:
"Amongst some of the most abhorrent and threatening comments, emails, text messages, and voicemails I've been getting… this beautiful comment stands alone. I know my dad, you simply don't. I love you, Dad," Ireland wrote on Instagram.
The message was from someone who worked on the Thomas the Tank Engine movie with Alec and was surprised by his one sweet paternal request on-set.
"So about a million years ago I was working in the production office in Toronto of the company that was making the Thomas the Tank Engine movie that [Alec] did. I'd dealt with typing up some pretty goofy celebrity riders in my day but NOT your dads," the person shared. "He only wanted to make sure he had milk and cereal in his hotel room for when his daughter was visiting. That was it. That was the whole rider. I'll always remember that."
Ireland's support for her father is even more poignant considering that they have had a publicly difficult relationship over the years. Ireland recently shared that after "a lot of time and a lot of therapy," she was able to mend her relationship with her dad and that she only wishes they could spend more time together.