Alex Rodriguez Was A Total Fanboy For J-Lo At The VMAs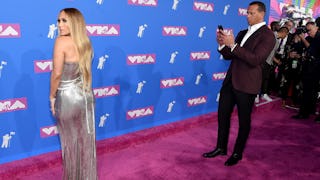 Image via Jamie McCarthy/Getty Images
Alex Rodriguez was Jennifer Lopez' biggest fan at the VMAs
We've already established that former Yankee Alex Rodriguez and current super woman Jennifer Lopez' relationship is all kinds of adorable. They're couples goals in every way from A-Rod's sweet Instagram birthday notes to Lopez shouting him out at last night's Video Music Awards. Speaking of which, Rodriguez attended the event with his love — and showed the whole world exactly how a guy should support his girl.
Rodriguez was on hand last night to cheer on Lopez, who performed as part of her accepting the Michael Jackson Video Vanguard Award, presented to artists for exceptional accomplishments in music and film. From their red carpet entrance to his lady bringing down the house with her insane talent, A-Rod was there to oh and ah — and take photos, of course.
First, the arrival.
Plenty of swoon-worthy gazing but also, dude didn't think a line of professional photographers was enough to capture the glory of his honey — and he's not wrong.
Then, Lopez' show-stopping performance of her greatest hits including a medley that featured "Jenny From The Block," "Get Right," "Waiting for Tonight," and so many others.
And again, Rodriguez was right there, all googly-eyed over his incredible girlfriend.
Like, no one can blame him, honestly.
The adorable adorableness wasn't all one-sided either. Lopez was sure to gush over her man for his unending love and support during her acceptance speech. "My life is sweeter and better with you in it," she said as he became visibly choked up.
HIS FACE. I cannot.
Of course the internet was very much here for his public displays of worship.
Basically, they're goals upon goals upon goals. Forever.
This article was originally published on