Alex Trebek Announces Heartbreaking Cancer Diagnosis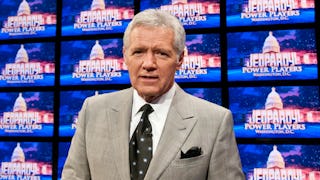 Image via Kris Connor/Getty Images
Pat Sajak, Vanna White, and fans all over the country are sending support to Alex Trebek
In a pre-recorded video from the Jeopardy! set, legendary host Alex Trebek is sharing that he's been diagnosed with Stage IV pancreatic cancer. He remains hopeful and even shares a little humor in the video, despite the grim prognosis for this type of cancer.
In the video, Trebek assures fans that he plans to undergo chemotherapy immediately and remains positive he can fight the disease.
"Just like 50,000 other people in the United States each year, this week, I was diagnosed with Stage IV pancreatic cancer," he begins. "Now, normally, the prognosis for this is not very encouraging, but I'm going to fight this, and I'm going to keep working. And with the love and support of my family and friends and with the help of your prayers also, I plan to beat the low survival rates statistics for this disease."
Words of support and heartfelt sadness began pouring in all over the internet, as so many people of all ages have watched and loved Trebek for decades.
Pat Sajak, longtime host of Wheel of Fortune, which has aired immediately following Jeopardy! for as long as anyone can remember, shares his words of encouragement.
Vanna White shared her own message to Alex Trebek as well.
Other fans shared their own touching memories and warm thoughts.
Renowned Jeopardy! champ Ken Jennings chimed in, too.
Trebek has hosted Jeopardy! since 1984. He took a leave of absence in January last year after surgery to remove blood clots from his brain, but returned shortly after to resume his hosting duties.
According to the American Cancer Society, pancreatic cancer is hard to detect early. The pancreas is deep inside the body, so early tumors can't be seen or felt by health care providers during routine physical exams. People usually have no symptoms until the cancer has already spread to other organs. Stage IV pancreatic cancer, which is what Trebek has, means the cancer has likely spread to other distant sites, organs, or blood vessels.
At this time, no major professional groups recommend routine screening for pancreatic cancer in people who are at average risk. Unfortunately, this is because no screening test has been shown to lower the risk of dying from this cancer.
According to the Hirshberg Foundation for Pancreatic Cancer Research, pancreatic cancer has the highest mortality rate of the major cancers with 91 percent of patients dying within five years of a diagnosis. It's the third leading cause of cancer-related deaths.
This bleak news didn't stop Trebek from cracking a joke about his show contract at the end of his video message to fans, however: "I'm going to fight this. I have to — I have to host Jeopardy! for three more years!"
Every ounce of our positive energy and loving thoughts are being sent his way tonight.