Alex Trebek's Final Episode Of 'Jeopardy!' Featured A Tear-Jerker Of A Tribute
by Julie Scagell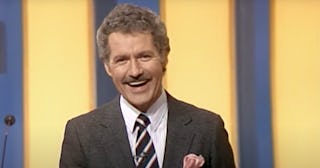 You're gonna want some tissues
Jeopardy! host Alex Trebek died on Nov. 9, a year-and-a-half after announcing that he had been diagnosed with stage 4 pancreatic cancer. This week, the show aired its final episodes with Trebek as the host, and its producers issued a final farewell to the beloved TV personality.
In a tweet on Friday evening, the show posted a tribute video to Trebek, who hosted the show for 37 seasons. This week's episodes were filmed in October, and Monday will start a new era of Jeopardy! without Trebek's lead.
"Simply the best," the show wrote, along with a 90-second video showing Trebek throughout the years. "Thank you, Alex."
The video, set to Hugh Jackman singing the Peter Allen song "Once Before I Go," is a lighthearted look at some of Trebek's best moments. There was dancing, there were costumes, and the best part is viewers got to see Trebek with his signature mustache one last time.
"You really make me feel inadequate," he's heard telling a child contestant. "Sorry about that," she responds.
Trebek is also shown walking on the set sans pants, arm wrestling with a contestant, and using a bullhorn during the broadcast. A clip of the host saying "I don't dance" is shown while the video plays clips of him dancing through the years.
The laughter is bittersweet. As Jackman sings "it's so hard to say good-byes, when there's so much that's left unspoken in your eyes," and "once before I go, I would like to let you know, that I would do it all again," it dawns on anyone watching what an absolute legend we lost.
The show will continue next week with a series of interim hosts, starting with Jeopardy! champion Ken Jennings. Though, we can't imagine being the first to host after an icon like Trebek, the two seemed to have a fun rapport when Jennings was on the show.
The final Trebek episodes began on Monday this week, with the host urging viewers to give to others suffering during the coronavirus pandemic. "We're trying to build a gentler, kinder society, and if we all pitch in just a little bit, we're going to get there," Trebek said. His final episode on Friday was especially gut-wrenching as it didn't appear Trebek thought it would be his last. "See you again next week," Trebek signed off.
Trebek announced that he had cancer during a broadcast back in March of 2019, saying, "Just like 50,000 other people in the United States each year, this week, I was diagnosed with Stage IV pancreatic cancer. Now, normally, the prognosis for this is not very encouraging, but I'm going to fight this, and I'm going to keep working. And with the love and support of my family and friends and with the help of your prayers also, I plan to beat the low survival rates statistics for this disease."
He will be missed forever.