Alex Trebek's Speech At A Cancer Walk Will Make You Ugly-Cry
by Christina Marfice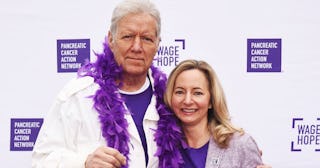 Pancreatic Cancer Action Network via Instagram
Alex Trebek gave a speech at a pancreatic cancer fundraiser that will bring tears to your eyes
We didn't exactly need any more proof that Alex Trebek is a national treasure. The man has hosted Jeopardy! for more than 35 years and 8,000 episodes, beaming himself into living rooms and dens across the country. At 78 years old, he's an icon, for so many reasons, just one of which is his courageous battle with pancreatic cancer.
Trebek was the keynote speaker this year at the Pancreatic Cancer Action Network's PurpleStride fundraising walk in Los Angeles, where he was supported by friends, family, colleagues and other survivors as he took the stage to deliver his remarks, which are guaranteed to bring tears to your eyes. It's pretty much the most Alex Trebek thing ever that even while grappling with his own scary diagnosis, he's hitting the ground running to try to make things better for others in the same boat. We truly do not deserve him.
Grab the tissues before you hit play on the video that was captured by someone in the audience and posted to Instagram.
"As you all know, survivorship is measured starting by the date you are diagnosed with cancer," Trebek said to a cheering crowd. "And on that scale, my gosh, I'm a 62-day survivor."
Ugh, I'm not crying, you're crying.
Trebek continued, "I promise you this, if I become a 22-year survivor, you will all be welcome at my 100th birthday."
As other survivors joined him onstage, Trebek continued his speech, saying they would all "demonstrate to the world, through the media covering this event, that there is hope, that we can beat it."
He added, "Our hearts are in this in terms of finding a way to beat cancer."
Trebek then referenced "Jeopardy James," the show's current champion who has won nearly two dozen games and counting, saying, "All of you guys here have done what Jeopardy James has done on our television show, and that is, in terms of fundraising, you have exceeded expectations."
Trebek's fundraising team included more than 200 staff members from Jeopardy! and Wheel of Fortune. They went into the event with a goal to raise $35,000, and by the end of the day, they had raised $60,000, more than double what they set out to do. You can even donate to help Team Alex raise even more.
It's been exactly two months today since Alex Trebek shared a heart-wrenching video message to fans, revealing his Stage 4 cancer diagnosis. As he said at the time, "I'm going to fight this, and I'm going to keep working. And with the love and support of my family and friends and with the help of your prayers also, I plan to beat the low survival rates statistics for this disease."
So far, he's still fighting, and that means he's winning. We're all still pulling for you, Alex Trebek, and you have all our healing thoughts and prayers.
This article was originally published on