Conservatives Are Freaking Out That Alexandria Ocasio-Cortez Paid For A Nice Haircut
by Cassandra Stone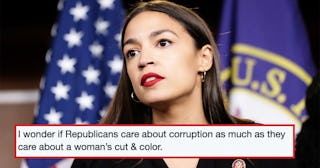 Alex Wroblewski/Getty and Alexandria Ocasio-Cortez/Twitter
There's blatant sexism at play when it comes to the hoopla surrounding Alexandria Ocasio-Cortez's $300 haircut
Sigh. Another day, another conservative media outlet trying their darndest to smear Alexandria Ocasio-Cortez for basically just having the audacity to exist. The Washington Times recently ran an "exclusive" where they called out AOC for spending "nearly $300" on her haircut, color, and tip. Luckily, she isn't having it. At. All.
Aside from the fact that the right-wing loves pretending they don't understand how socialism works, all this story really proves is that men have absolutely no idea how expensive it is to just be a woman — $15 Sports Clips or Supercuts haircuts don't exactly compare. The blatant sexism at play here is really something. What's The Washington Times' stance on Trump's literal constant golf breaks? Trips to Mar-A-Lago? It would probably be safe to assume the summation of those things is far more detrimental to the pockets of taxpayers than a measly haircut. Which, by the way, AOC says she used her own personal funds for.
Enter: AOC. She's never backed down from making many, many valid rebuttals in the face of Republican hypocrisy, and she's not going to stop now. "40 million Americans live in poverty under today's extreme inequality, yet the right-wing want you to blame Democratic socialism for their own moral failures," she tweeted.
For comparison's sake when it comes to this haircut outrage, Vice President Pence's trip last month to Trump's resort in Doonbeg, Ireland, is estimated to cost taxpayers $599,454.36 in limousine service alone, according to State Department contracts reviewed by Citizens for Responsibility and Ethics in Washington (CREW).
Also! The choice to stay at Trump's resort in Doonbeg was as inconvenient as it was expensive as it is located 181 miles away from Dublin, which is where Pence's meeting was held. Pence's $600k limo bill does not even cover the full cost of the trip, because it excludes the cost of Secret Service detail and lodging. CREW sent a Freedom of Information Act request for Secret Service records for a more complete picture of what the detour cost taxpayers.
Naturally, we can all count on the good people of Twitter to brilliantly highlight the misogyny and hypocrisy.
Personally speaking, I am not a public figure. I do not take part in television appearances or major events where I can expect to be endlessly photographed. I live in a suburb of a moderately-sized city, and my haircuts + color + tip regularly cost anywhere from $150-$200, depending on the salon.
When it comes to AOC and other female public figures, the threatened white men who criticize her appearance are doing it because criticizing her policies doesn't get them the same amount of attention. She's a woman in a position of power, so reducing her to the cost of her hair salon services is easier for conservatives to do because they aren't on her level, both intellectually and publicly.
All this faux outrage does is attempt to shame and silence women in positions of power. Thankfully, it doesn't seem to work on AOC.
This article was originally published on