Alexandria Ocasio-Cortez Fans Shower Her Office With Supportive Post-Its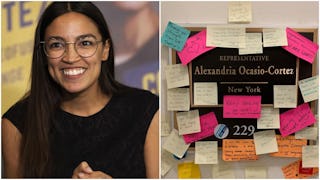 Image via DON EMMERT/Getty/Twitter/Matt Laslo
Alexandria Ocasio-Cortez's fans have been leaving the nicest post-it notes outside her office
There's a lot of reasons to love Alexandria Ocasio-Cortez. She's fighting hard for the working class, she's actually trying to end climate change, and she's mastered the art of the Twitter burn (sorry, Mitch McConnell). Her fans are showing her encouragement by leaving post-it notes outside of her office and all of the messages are incredibly sweet. Prepare for a whole bunch of sunshine coming your way.
In the past month, Mashable reports that Ocasio-Cortez has received thirty post-it notes pasted onto the name plaque outside her office.A small sampling of those messages include, "Sending you strength from GA," "Continue to be an inspiration to us all and do big and exceptional things," and "America needs more of you! Keep killing it girl!"
Others encouraged her to stop the patriarchy, told her they were wearing hoops just like she did during her swearing-in ceremony, and reminded her to keep dancing (I'll definitely second that).
It looks like this post-it tradition first started right around the time Ocasio-Cortez was trying to track down Mitch Mcconnell to deliver a letter asking him to end the government shutdown (and then started the classic hashtag #WheresMitch). There were a handful of messages from her supporters waiting for her when she got back, and the congresswoman took to Twitter to express her gratitude.
"After looking for Mitch McConnell with @KatieHill4CA, @LaurenUnderwood, @JahanaHayesCT & others to deliver our letter asking for the Senate to do their job, I returned to this loving surprise," she wrote. "Thank you all so much for your support. I'll keep these up as long as they stick!"
The post-it notes just kept coming. More and more people started leaving messages of support for the congresswoman – so much so that they had to started pasting them to the wall because there wasn't any room left on the plaque. Ocasio-Cortez tweeted out another big thanks to her fans.
"We're feeling the love out here," she wrote. "Thank you everyone for your supportive gestures – it makes a huge difference, and the positivity helps our whole team stay courageous."
Important side note: apparently this isn't really general practice for the public to leave sweet notes outside of elected officials' offices. Journalist Matt Laslo tweeted that he's worked in the Capitol for twelve years and never once seen a post-it display like this before before. So, clearly Ocasio-Cortez is striking a chord in a big, big way.
Need further proof? On the day Ocasio-Cortez was sworn-in, a Capitol Hill worker stopped her to give her a big hug – another anomaly. "I've never seen Capitol workers react like this to a member of Congress," Ryan Grim, DC bureau chief at The Intercept, tweeted.
Keep doing you, Alexandria Ocasio-Cortez. There's so, so many more post-it notes coming your way.
(H/T Mashable)