Serena Williams Walks NYFW Runway With Toddler Daughter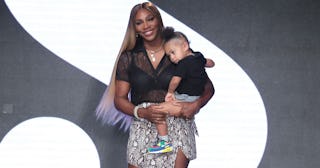 Thomas Concordia/Getty Images for Style360
Serena Williams and her daughter walked a NYFW runway together and the photos are so sweet
There's no age limit on fashion, and Serena Williams and her daughter are proof. Two-year-old Alexis Ohanian Jr. joined her mom at New York Fashion Week, even making her runway debut at Serena's side, and the pair absolutely nailed their looks.
Serena was at NYFW to show her S by Serena collection, which she created to celebrate "women who turn fear into courage and doubt into confidence."
At the end of the show, she walked the runway to greet her guests, who included Kim Kardashian West, La La Anthony, Ashley Graham, Dascha Polanco, and, of course, her husband, Reddit co-founder Alexis Ohanian. When she hit the catwalk, it was with little Alexis in her arms, and the pair walked together in matching outfits of black tops and gray bottoms. Alexis's look was finished off with a high ponytail and some very colorful Nike sneakers. She's a tiny fashionista already.
Though Alexis Jr. looked a little nervous and bashful at times, with her mom right there, she absolutely nailed her first catwalk appearance.
During a talk she gave at NYFW, Serena opened up a little more about becoming a mom and how it's changed her entire life and outlook.
"Becoming a mom is something that I've always wanted to do, but I was getting older and [it was] not really going to happen," she said. "I love being her mom, and it's such a great feeling. For me, she's the best thing that's happened to me and I've had so many amazing things happen to me, so that's really saying a lot."
She also shared that sometimes it still hasn't sunk in all the way that that tiny human is hers.
"I feel definitely evolved, but the other day we were at dinner and I'm like, 'How am I a mom?! How did that happen?' I remember being pregnant, but it feels like a lifetime ago," she said. "I was just hanging out with my friends, and I was like, 'I'm a mom!' It's weird!"
If you ask us, though, she's nailing it. Serena has been a total inspiration with how she's seamlessly juggled being a doting mom while also getting back in shape to continue to be one of the world's top tennis players — along with all her other professional pursuits. Sure, having a devoted dad like Alexis Ohanian by her side has got to help, but she's still one of the most badass moms in the world, and we are here for her continuing to crush it with Alexis Jr. by her side.
This article was originally published on