Serena Williams' Husband Wants To Learn To Do His Daughter's Hair, And People Have Feelings
by Christina Marfice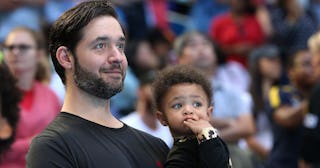 Paul Kane/Getty Images
Alexis Ohanian took to the internet to try to learn how to do his daughter's hair, but some people are criticizing him for it
You all know Alexis Ohanian, co-founder of Reddit, husband of Serena Williams, and father of Alexis Olympia Ohanian Jr., AKA our future overlord.
We're big fans of Ohanian, because by all accounts, he absolutely dotes on Williams and their daughter, and we just love a sweet celeb dad being a great example like that. That's definitely what was happening when Ohanian tweeted last week that he had requested access to a number of private Facebook groups dedicated to natural hair, saying he did it because he wants to learn more about how to take care of and style his daughter's hair.
In his tweet, he said he hoped his request to join the private groups wouldn't be rejected because his profile picture shows, you know, a white guy who definitely does not have natural hair. But he said he told the group administrators he was there for his daughter, and he hoped to learn more about taking care of her natural hair.
A lot of people on social media were touched that Ohanian is going to such great lengths to make sure he can take care of his baby to the best of his ability.
https://twitter.com/jetpack/status/1129159003999629312
He also got a number of adorable responses from other dads who shared their journeys to learn how to do their daughters' hair.
https://twitter.com/jetpack/status/1129183083452882945
But some people had some mild criticism to offer Ohanian. The groups he wants to access are private for a reason — they are safe spaces where women and people of color share their experiences, and presumably, they're private to keep access limited to those people. They rightfully pointed out that there are ways Ohanian can learn about natural hair that actually benefit those communities, rather than infringing on their space.
https://twitter.com/jetpack/status/1129791998234451968
People were also quick to offer up alternative places he can learn the ins and outs of taking care of little Alexis' hair.
At the end of the day, it's clear Ohanian's heart is in the right place, and he's just trying to do his best by his daughter. We're here for that, and we think most of Twitter is, too, despite some valid criticism of his methods. Here's hoping he takes it to heart and continues to look for learning opportunities that won't be harmful or problematic.
In the meantime, we would like photos as he learns. You got that, Alexis Ohanian? More photos of your beautiful baby, please.