Alexis Ohanian's Emotional Home Video Of Serena Post-Birth Will Make You Sob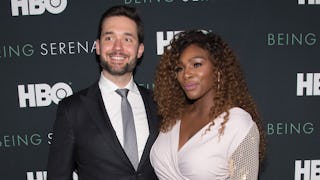 Image via Mike Pont/WireImage
Alexis Ohanian's video is an emotional tribute to how far Serena Williams has come in one year
It's hard to find a more devoted, more "in love" married couple than Alexis Ohanian and Serena Williams. Ohanian has basically made a career out of declaring his love and admiration for his all-star wife on a regular basis, and she deserves every single bit of it. His latest Instagram post is an incredibly sweet and emotional celebration of Serena and the birth of their daughter.
Warning: tissues are not optional.
He used home video footage of Williams after she gave birth to their daughter, Alexis Olympia, a year ago as well as footage of her now, one year later, competing at the U.S. Open. "She fought for her life, for our child, for recognition, for equal pay, for women's rights," he writes in the caption. "She never gives up. She's passionate and unrelenting and the most inspiring person I know."
Has there ever been a husband who loves his wife more than Alexis Ohanian? I mean, come on. And none of it feels forced or phony in any way. Mainly because his wife is so fan-flipping-tastic, who wouldn't feel that way? It's also beyond refreshing to see a white, cis man who is in no way intimidated by his partner's success. He even says it himself — on a billboard — she's the G.O.A.T.
Williams has shared how giving birth to their daughter almost killed her, and the chronic health issues she's faced since. That kind of terrifying, near-death experience either makes or breaks you. And there's no question on what it's done to Williams and Ohanian, who have the kind of rock-solid union most of us could ever hope for.
"I had this made for Serena Williams last night after her match with some home videos from 1 year ago this week," Ohanian says about his video. "Help me make sure she sees it! #iloveyouserena"
BRB, sobbing forever because these two are the definition of relationship goals.