Popular Wedding Chain Closes Abruptly, Totally Screwing Over Brides-To-Be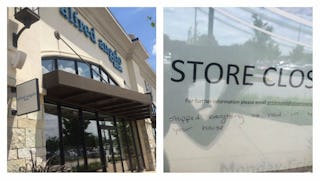 Image via Twitter/Aishah Hasnie
Alfred Angelo closes stores with no warning and brides are panicking
Planning a wedding is already high stress. Now imagine your dress is being held hostage somewhere, you already paid for it, and have no way of getting it. That is what brides who purchased Alfred Angelo dresses are dealing with right now after the wedding retailer abruptly closed all of its stores nationwide with no warning.
We're talking about brides with their wedding dates just days away. They have every right to freak the f*ck out.
According to USA Today, Alfred Angelo Bridal closed 60 of its stores and filed for Chapter 7 bankruptcy liquidation in Florida, where the company is based. Store managers were reportedly not alerted to the closures and many stores were locked up for the last time Thursday with no warning to employees or customers. This is the sign posted on a store door in Castleton, Indiana.
The closures not only screwed over brides and members of their wedding party who had gowns, but also employees who count on their jobs to support themselves and their families. It's a disaster. A nightmare, really.
Several upset brides took to Twitter to air their frustrations. Many of them don't even know if they'll ever see the dress they already bought or if they'll receive a refund for their dress. Some have weddings that are fast approaching and have scant time to find another dress.
Also, just think – bridal gowns are not cheap. Many brides save a shit ton of money to buy their dream dress in the first place, so how they hell are they going to afford getting another one? The closure is crushing their dreams and their budgets.
Thankfully, brides who've already ordered dresses may take some solace. Patricia Redmond, a lawyer for the Florida firm Stearns Weaver Miller who is handling the bankruptcy filing says she's received thousands of emails from concerned women. She claims that the company is working to fulfill all orders that had already been been purchased from Alfred Angelo.
"It typically always gets better after the bankruptcy filing for customers who have goods that have already been purchased," Redmond said. She also said that many stores sent dresses by mail before the closures which may not have arrived yet. In the meantime, several nationwide and local retailers are stepping up to help brides.
Here to save the day, David's Bridal is offering to take 30 percent off wedding dresses and 20 percent off bridesmaid dresses for Alfred Angelo customers who didn't get their order before the closures. They just have to bring in a valid receipt. Rush fees to meet certain dates will also be waived for alterations.
Many local stores are offering special discounts as well, including Carrie's Bridal Collection in Atlanta.
"We are offering $100 off of our regular priced dresses to help the brides affected. With our dresses being under $1000, a bride could walk away with a dress that is comparable to their Alfred Angelo gown for half the price," manager Kristin Hair tells Scary Mommy. "The upside also, is that they do not have to order. They can take it with them the same day."
It seems some beauty can come out of such an ugly situation; competition is being put aside and community is prevailing. Additionally, even if these distraught brides don't get their dresses, they are receiving a lot of love. It may not be enough to make up for the hideous situation, but Hair is seeing a lot of support.
"With Instagram and Facebook, we are really seeing stores coming together and former brides offering their already worn gowns, it's pretty cool to see considering the circumstances."
This article was originally published on