Ali Stroker Becomes The First Actor Who Uses A Wheelchair To Win A Tony
by Christina Marfice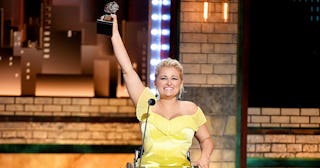 Theo Wargo/Getty
Ali Stroker gave an inspiring speech encouraging kids with disabilities to chase their own dreams
History was made at last night's Tony Awards. Ali Stroker, an actress who uses a wheelchair, won the award for Best Actress in Featured Role in a Musical. She's the first actor in a wheelchair ever to win a Tony Award.
Stroker was clearly emotional onstage as she accepted the award, and for good reason — this is a huge milestone for representation in theater.
Ali won the award for her starring role as Annie Ado in the Broadway revival of Oklahoma!, which has been well-received by critics. She's also an alum of the "Glee" Project, which was an offshoot reality show that allowed actors to audition for a role on Glee. Glee, it's important to note, featured a character in a wheelchair who was played by an able-bodied actor.
But today is about celebrating the fact that Ali Stroker has broken this barrier, and won an award she absolutely deserved. After receiving her award, she gave a truly inspiring speech that she addressed to other kids with disabilities.
"This award is for every kid who is watching tonight who has a disability, who has a limitation or a challenge. Who has been waiting to see themselves represented in this arena," she said. "You are."
People on Twitter have been reacting to Ali's win, and their responses are every bit as heartwarming as seeing her win the award.
This isn't the first time Ali Stroker made history. She was also the first person in a wheelchair to even be nominated for a Tony. In 2015, when she made her Broadway debut in Spring Awakening, she was the first person in a wheelchair to grace a Broadway stage. In 2015. Four years ago.
There is, however, one thing that's casting a pall over Ali's win. The Tony stage had no ramp installed, which meant Ali had to watch from backstage rather than the audience, where the rest of the nominees sat, so she'd be able to reach the stage after her win.
When Oklahoma! won the award for Best Musical Revival, Ali was unable to join her castmates onstage to accept that award because there was no ramp. While the fact that she's starring in shows and winning awards is a huge step forward for representation, the lack of accessibility feels like two even bigger steps back.
Clearly, Ali Stroker is a star. She's not going to stop performing and she's not going to stop winning, and other underrepresented actors are going to follow in her footsteps and blow us away, too. Now it's up to the theaters to get with the times and make their seating areas, stages and backstage areas safe and accessible for all people.