Alicia Keys' Duet With Her 7-Year-Old Is Next-Level Adorable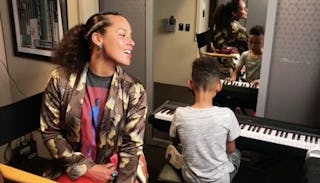 Image via Instagram/Alicia Keys
Alicia Keys and her son sound perfect together
Alicia Keys took to Instagram this week to assure us that her musical legacy is being passed down through her insanely talented son, Egypt. The seven-year-old and his mom performed an incredible duet with Keys singing and Egypt on piano. The result is basically the cutest and most entertaining thing ever — this kid is absolutely going places.
Keys and her son took on Bill Withers' timeless classic "Lean on Me" with the singer absolutely nailing the vocals and little Egypt getting the chord progressions exactly right, despite his extremely young age.
https://www.instagram.com/p/BjPpdBGlvEn/?utm_source=ig_embed
Keys shared the video with the caption, "Best duet everrrrr !!!!! Love this boy!! He's so excited about music My bestie!!" And no one would argue about it being the best, because, hello. This kid definitely inherited his mom's ability to tickle the ivories (Keys is a piano genius) and the two are just perfectly in sync. It's downright heartwarming seeing how they gel together.
Keys' husband, Kasseem Dean (a.k.a. Swizz Beatz) shared the video too with the caption, "Wow wow wow I've been waiting for this moment. The dedication and hard work my wife put into the kids are priceless. Let me find out y'all have a tour coming soon."
Um, I would buy tickets.
This is just too much sweetness. It's also not the first time the musically gifted parents have shared their equally gifted son with the world. Looks like Egypt is totally following in Keys' and Dean's footsteps. Just listen to him — he sounds so much like his mom.
And his piano skills are no joke.
Can't wait for his album to drop but in the meantime, let's hope his parents keep sharing his talent with the world.
This article was originally published on