All 4 Members Of 'The Squad' Won Reelection Last Night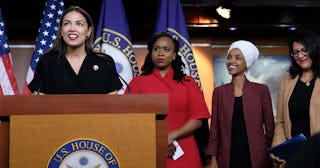 Alex Wroblewski/Getty Images
The four freshmen Congresswomen who were nicknamed "The Squad" all won their reelection bids last night
The four freshmen congresswomen who had been nicknamed "The Squad" — Reps. Ilhan Omar of Minnesota, Alexandria Ocasio-Cortez of New York, Rashida Tlaib of Michigan and Ayanna Pressley of Massachusetts — are all projected to have won their first bids at reelection. The group, made up of all women of color, became a symbol of the progressive left when they won their elections in 2018, and have since rallied their base on social media — while also drawing frequent racist attacks from Donald Trump. Two more years of leadership from these women? Yes please.
Most of the members of the Squad didn't face significant challenges for reelection in this cycle. But that was less true for AOC, who is arguably the most famous of the four. She represents New York's 14th Congressional District, which is a deeply Democratic area of the Bronx, and because of that, her seat was never considered particularly vulnerable. But as a powerful woman of color, she's faced hate from all over the country, and her opponents' races were well-funded by interests outside of New York. That includes the "Stop the AOC PAC," a political fundraising organization that spent nearly $70,000 on a digital ad campaign against the Congresswoman, according to CNN.
And in the new House of Representatives, the Squad will be in even better company. While results are still trickling in from a number of states, races have been called for Jamaal Bowman in New York's 16th Congressional District and Cori Bush in Missouri's 1st Congressional District. Both are progressive candidates who were endorsed by Justice Democrats, the group that recruited the original members of The Squad and helped propel them to victory in their first elections.
If we can keep filling up Congress with these kinds of progressive voices, it paves a path for the original Squad members to move on to bigger and better things. AOC has already hinted that she might plan to run for a higher office someday.
"I don't know if I'm really going to be staying in the House forever, or if I do stay in the House, what that would look like," she told Vanity Fair earlier this year. "I don't see myself really staying where I'm at for the rest of my life."
President AOC? We can only hope that someday it might be possible.