All Bad Things Must Come To An End: Goodbye To Motley Crue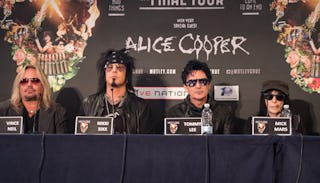 Ian Gavan / via Getty Images
I was sitting at my computer working when I saw eight words flash across my screen. Ads are everywhere and the stalker-ish Internet always knows what kind of stuff we like to buy, right?
All bad things must come to an end.
It was an ad for the farewell Mötley Crüe tour stopping in my city that weekend. I'm admittedly not very good about keeping up with the happenings of my favorite metal bands. I could blame mom-brain, soccer practice, Pinterest, whatever, but I didn't know Mötley Crüe was breaking up. I actually wasn't sure if they were still making music. My playlist and I are stuck together in 2008.
All bad things must come to an end.
Band breakup, or ticket sales-boosting tactic? I look at farewell tours as a prelude to reunion tours, you know? Bands break up all the time: falling outs, arrests, stints in rehab, egos getting in the way of making music. They go their separate ways, and then bam: Here comes the highly anticipated reunion tour and/or album.
I blame my kids for not being savvy on what's up in the world of music. I have no idea what's new and hot, but I can sing along to the theme songs of whatever's hot on Nick Jr. I don't have satellite radio in the minivan because I'd never listen to it. My passengers are usually clamoring to watch a DVD or putting out their own special brand of loudness. Everything about this story screams hipster, doesn't it?
If I had to give you a list of my favorite badass '80s metal bands, Mötley Crüe would be number one. I'd seen them live twice. Man, I miss the late '80s and early '90s when rockers with crazy long hair and leopard print spandex tights were cool.
All bad things must come to an end.
This was practically an engraved invitation from Nikki Sixx himself disguised as an ad on Facebook. I told my husband we needed to call the sitter and buy tickets.
Going to a metal concert in my 40s is a lot different than it was in my 20s. I didn't plan my outfit days in advance; I put on what was clean and seasonally appropriate half an hour before we left. I wasn't concerned with how close my seat was to the stage; I wanted to be able to see without getting trampled by crazy girls trying to throw their panties at the singer. Do people still do that?
Going to a concert in my 40s is all about remembering to get cash for the sitter and scoping out restaurants with early-bird specials so we could eat beforehand, because after the concert would be past our bedtime. It was different, and yet not. The excitement I felt as the hours before the show ticked by was the same. I listened to my favorite '80s metal and reminisced about my first two Crüe concerts, one of which I don't remember all that well, if we're being completely honest.
On the way to the venue, my husband and I talked about our kids (because of course we did) and whether we should replace our water heater now or wait until next year. If that doesn't scream Decade of Decadence, well, I'm not really sure what does.
I was prepared to rock out, be entertained and see a great show. I was not disappointed, but it became very clear, very quickly that this was not a hyped-up gimmicky farewell tour. The Jumbotron flashed suggested hashtags for tweets and 'grams–my, how things have changed–and this one leapt out at me:
#RIPMOTLEYCRUE
I'm not sure how many times "for the last time" was spoken during the two-hour show. Vince, Tommy and Sixx all gave little snippets and insights injected throughout the show. Using flair and pyrotechnics, they made it crystal clear that this was goodbye. RIP. They played their asses off, and if any of that was contrived, well, color me fooled.
As I sang along and strummed my air guitar in my seat (that's right: no shame), the melancholy crept in. Mötley Crüe has been playing together for 34 years. I've been listening to them for just about that long. Some parts of the '80s are fuzzy, but I remember that day in 1983 when I bought Too Fast for Love on vinyl. I'd dance around my bedroom singing into my hairbrush, fantasizing about how Nikki Sixx with his bad boy ways would sweep me off my feet, and I'd live this glam, jet-set life in miniskirts and stiletto heels.
All bad things come to an end.
The last show is on New Year's Eve, and I'm bummed and dejected. Not because I'll miss their music, Mötley Crüe peaked a long time ago. They've already produced their best stuff. I can hear it anytime I want on my playlist stuck in 2008.
Vince, Tommy and company are getting older, softer. They have wrinkles, as do most of their fans, me included. Vince Neil doesn't rock the same body he did in 1988, but neither do I. No shame in that.
If Mötley Crüe were to continue on the concert circuit, there would come a time when they'd stop selling out large venues. There's something depressing about seeing a band you loved in your youth play at county fairs or casinos. Trust me, I know: I saw Bret Michaels play at Rib America in Missouri in 2010.
So, props to the Crüe for rocking off into the sunset with class, but they've made me face my own mortality in the process, which is the last thing I expected to think about while driving home from a rock concert. While it was fun to relive my glory days, there's a part of me that feels like a little piece of my youth was carried away by the wind as the last note of "Home Sweet Home" played.
Music can bring on powerful nostalgia and a full-spectrum range of emotions: highs, lows and in-betweens. I'm glad those eight words popped up on my screen that day.
All bad things must come to an end.
Indeed they do. I think they said it best: Seasons must change—separate paths, separate ways.
Cheers, Mötley Crüe. It doesn't look like you're going away mad, but you are going away. Thanks for 34 awesome years. I even remember most of them. I'm sure I'm not alone in that.
This article was originally published on