Why Your Kids' School Needs A Garden
by Clint Edwards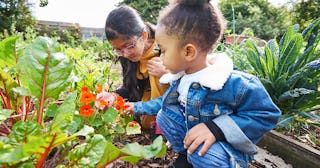 Tara Moore/Getty
About five years ago my wife, Mel, got a part time teaching assistant job at our children's charter school. She noticed that they had an old greenhouse on the property, and it gave her an idea. Why wasn't there a school garden?
She has a degree in horticulture, and gardening is, well … her jam. She approached the school administrators about it, and they seemed open to the idea, but naturally, they needed funding. Together, Mel and I started looking for grants with a very simple program: teach the children about the production of food from the seed to the table. We designed a class where kids would plot out a garden bed, learn about the plants they would grow, the nutritional value, and what it takes to bring them from seed to harvest. Then, once grown, they could keep a portion for themselves, and deliver a portion to the school cafeteria, where they would be served to their classmates at lunch. A several-thousand dollar grant from the good people at Lowe's Home Improvement Warehouse, some serious repairs to that old greenhouse, and about 40 garden beds later, our children have a fully functioning gardening program. And let me just say, it is quite popular among children, parents, and teachers.
As it turns out, however, what Mel and I were working on in rural Oregon is happening all over the U.S., and school gardens are showing to have benefits not only on children's education, but also their diets. In a study recently published in the International Journal for Behavioral Nutrition and Physical Activity, a team of researchers targeted schools with a high population of children on free or reduced lunch programs. The goal was to see how nutrition programs implemented by schools benefit low income children. What they found, however, was that some of the most beneficial school programs included a school garden. In fact, children that participated in a school garden, in coordination with cooking and nutrition classes, ate on average half a serving of vegetables a day more than children without these educational resources.
I know, half a serving a day doesn't sound like much, but speaking as a parent, getting my children to eat a single baby carrot can make me feel like the dad in "A Christmas Story." You know the scene I'm talking about, where he screams from the dinner table for his plumber's helper so he can use it to get his son to eat dinner? It's a battle when it comes to leafy greens, but the real optimism is that half a serving of vegetables, along with food education and gardening can very likely lead to long term change in diet. Jaimie Davis, associate professor of nutritional sciences at UT Austin and the lead author of the study, notes, "A lot of the families in these schools live with food insecurity. They live in food deserts and face a higher risk of childhood obesity and related health issues. Teaching kids where their food comes from, how to grow it, how to prepare it — that's key to changing eating behaviors over the long term." And that long term change in eating is exactly what I'm shooting for with my kiddos.
If children eating half a serving of vegetables a day doesn't sell you on a school garden, the fact that children perform academically better in schools with a garden might. One of the more studied and organized school garden programs in the U.S. is OutTeach (formerly named REAL School Gardens). They have assisted in planting hundreds of school gardens across the southern United States, while also training teachers on how to best instruct using a school garden. And what they have found is pretty amazing.
According to data on their website, their program has found that having a school garden results in a 15% increase in standardized test scores, and 94% of teachers report that they noticed an increase in student engagement. They also found that teachers love the garden, too, with many reporting an increase in job satisfaction. This is a big deal, folks, and it should be recognized.
I know we're just trying to get through a nasty pandemic, and get our children back into the classroom safely. But once COVID-19 is behind us (and yes, it will happen eventually), and all kids are back in the classroom, and the world is working the way it used to, consider advocating for a school garden. I can easily say that it's been a pretty amazing addition to our children's school. It's become a great place for families to volunteer while also getting some great time outdoors. And it has become a huge boost to our children's understanding of food and nutrition. In fact, I can't really think of a downside, outside of getting your hands a little dirty. But hey, that's gardening.
This article was originally published on