This New Christmas Ad is Making The Entire Internet Cry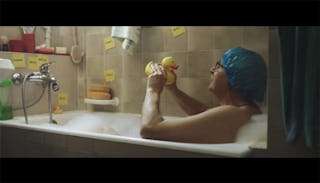 Polish site makes everyone cry with new Christmas ad
Allegro is a Polish online auction website. Last week, it debuted its holiday ad, called "English for Beginners."
The ad shows an older gentleman ordering a language learning kit called "English for Beginners" from the site, then going about his life, daily incorporating the lessons of the kit.
He repeats catchphrases while listening to his headphones.
He labels all the items in his home.
He watches English television for reference.
All the while you follow the most likable man on the planet around, wondering who he is perfecting his English for. And then you learn. And then you cry. Sorry.
There is a bit of a not-safe-for-kids moment when he swears in the bath, FYI.
Behold the sweetest Christmas ad, ever.
Told you.
"Christmas for many is a difficult time in which we yearn for more," a spokesperson for Allegro told Buzzfeed News. "But the story we are telling is all-purpose and can be easily understood by any other nation or community who can easily link the happy ending of a smile and tears of emotion to their daily human experience."
This article was originally published on