This Mom Who Gave Her Kids' Toys Away Is Your New Guru
by Maria Guido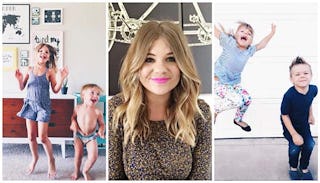 Image via Instagram/ Allie Casazza
This mom who donated the bulk of her kids' toys is an inspiration
Four years ago, Allie Casazza got tired of looking around her house and seeing a bunch of stuff. She got tired of always feeling behind. "I spent the first four years of my motherhood completely miserable, to be honest," Casazza admits. "I was stuck in survival mode and there seemed to be no way out."
One particularly rough day after the kids went down for a nap, she locked herself in the bathroom and tried to figure out why the heck she was so stressed out. "I was having this meltdown," she tells Scary Mommy. "I was stressed all the time. I thought, 'This is not where I want to be.' In that moment, I decided to break down what it was that wasn't working."
Her realization? "It was my stuff."
She decided to donate all the toys that were cluttering every corner of her home.
Both she and her family have never looked back.
"I ask 'Okay, guys! What do you want to keep?' I don't have any strict rules, we have one plastic bin (and one separate lego bin.) All of their toys fit into that bin, and we rotate them out." She has four kids: Bella, 7, Leland, 5, Hudson, 4, and Emmet, 2. Four kids. One bin. If she can do it, so can we.
"People definitely give our kids toys, and they definitely like to get them because they are normal," she says, laughing. "But we focus on experiences now, not gifts."
Since her story has gone viral, Casazza has received some backlash, because internet. "People are calling me selfish and saying that it's something I did for me," she says. "The reason I did this was because my kids were suffering from their mom being depressed. We're all happier now, and my kids are thriving."
Yes, too much stuff has actually been proven to cause a lot of stress. A 2012 study from UCLA's Center on the Everyday Lives of Family found managing the amount of clutter in a house "was such a crushing problem in many homes that it actually elevated levels of stress hormones for mothers."
Casazza says her children are wildly creative, and they're thriving in a home that isn't filled with toys. She also admits her husband, Brian, wasn't immediately on board. "It took about two years," she laughs. "But we ended up compromising."
She now uses her experience to help other households get a handle on their crap, via her website The Purposeful Housewife. "Everything got lighter, simpler, better. I finally shook my depression and it never came back," she explains on her site. "I had more free time, I was actually enjoying and playing with my kids, I was happier, I was fulfilled, I was able to serve my family and be the best version of myself. Now I spend my free time helping my fellow women get to that same place in their lives."
We all look around our homes and think What is all of this stuff? — don't we? I feel like my husband and I are doing a toy purge every few weeks — but it usually just involves sifting through bins of toys and only getting rid of a few tiny, plastic, crappy ones. My kids both have a few favorites they play with constantly. Their favorites could definitely fit in one bin.
The thing is, our kids don't need all this stuff. We know it. We didn't have it growing up — but most of us have succumbed to this idea that "this is just how it is nowadays." But it doesn't have to be. Frankly, this mom is an inspiration.
I think it's time to donate some toys.