Mom's Viral Post Reminds Us We're So Much More Than A Clothing Size
by Sarah Hosseini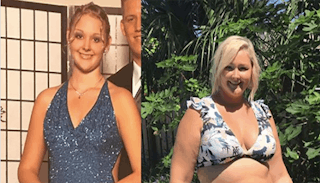 Image via Instagram/ Allison Kimmey
Body positive author and speaker shares personal story of weight struggles
So often when we hear a story of someone reaching total self-acceptance with their body, they focus on the triumph only. They spotlight their success. Their weight loss is screamed from the internet rooftops. But one woman is sharing what happened before she found peace with herself and her body, and it's so relatable because this is real life.
Allison Kimmey, a body positive author, speaker, and mom shared side-by-side photos of herself on Instagram to tell a powerful story. On the left, is a photo of her as a teenager at a size six, and on the right is a photo of her recently at size 18. "At the age of 15 I saw an infomercial for a workout tape system. It guaranteed results in 10 workouts or less. I begged my mom to call and order it for me since I was under 18," she writes.
https://www.instagram.com/p/BapuxqsHZVI/?taken-by=allisonkimmey
She explains that five weeks later, the tapes arrived on her doorstep.
"Tapes in hand and the Atkins diet plan in mind, I made a promise to myself to lose 50 pounds before my sophomore year began so that I could be like the popular girls."
"I remember eating a lot of carrots that summer…and as school shopping time rolled around I was able to get a new smaller wardrobe and even buy shorts at Hollister and American Eagle," she writes.
The problem was, when she got back to school, her new single digit sizes didn't even matter. Popularity didn't find her at her new weight.
"I still didn't fit in. I still felt like the fat girl that I spent all summer trying to erase," she writes.
Kimmey says that for the next seven years, she obsessively worked to stay in that small size and fit in with the crowd.
"I never did. I spent many lonely days trying to find my place," she writes. That's when Kimmey realized that fitting in with certain people, in certain dress sizes, or just fitting in period is a fruitless endeavor. She determined it was time for her to focus on her whole self, not just her body.
https://www.instagram.com/p/BatrelDHhjB/?taken-by=allisonkimmey
"…when I finally stopped trying to be like other people, I started to see who I truly was. I discovered strengths and hobbies, interests and new friends," she writes. "When I think back, I can see glimpses of my true self peeking through, but I was so scared of what a big personality I had hiding inside. I was afraid to stand out for so long."
Kimmey's journey is truly inspiring because not only is she an advocate for body positivity within herself and other women, she gives inspiration to fellow moms who want to instill self-love in their daughters. Over the summer, she shared a brilliant response to her daughter calling her "fat" in a previous Instagram post.
https://www.instagram.com/p/BVNHKuUFXFC/
Kimmey is keeping the conversation around body positivity going, and she's giving us tools to use in our own lives. As much as she's triumphant (as she should be) she's also honest in her reflections and the hard lessons she's had to learn along the way.
"And now, at 30 years old, I know that it was never about the size in my jeans. It wasn't about who I associated with in high school. Or how many carbs I ate in college.
"Those things never defined me, and when I let those measures of my former self go, I was able to see that my worth was not tied to anything anyone else could weigh, but instead my ability to unapologetically be my authentic self."
This article was originally published on