Allyson Felix & Athleta To Give Childcare Grants To Moms Competing In Olympics
by Kristine Cannon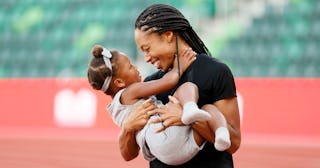 Steph Chambers/Getty Images
Felix, Athleta and WSF have launched a first-of-its-kind childcare grant program, giving $200K to athletic moms
In an effort to help out fellow athletic moms, Olympian Allyson Felix has partnered with sporting apparel company Athleta and the Women's Sports Foundation (WSF) to launch The Power of She Fund: Child Care Grants, a fund that will give $10,000 to mom athletes competing in both the Games in Tokyo this summer and the Beijing Winter Olympics in 2022. It's an effort Felix says will "make a huge difference" in athletic moms' lives.
In total, the first-of-its-kind program, which was formed to address inequalities facing female athletes, will give $200,000 to help fund childcare costs for said mothers traveling to competitions.
"Childcare is one of the huge barriers that we have to overcome," Felix, a six-time Olympic gold medalist, three-time World Champion and mom of 2-year-old daughter, Camryn, tells Good Morning America.
"As a mom and an athlete, I know first-hand the obstacles women face in sports," Felix adds in a press release. "It was important to me and to Athleta that our partnership reflects that I am more than just an athlete. In fact, part of my contract includes provisions for my daughter, Camryn, to join me whenever I am competing. But not everyone has access to this type of support from a partner or sponsor. These grants are about showing the industry that all mom-athletes need this same comprehensive support to be able to participate in their athletic endeavors."
The first set of nine moms receiving The Power of She Fund: Child Care Grants include gold-medal-winning sitting volleyball player and four-time Paralympian Lora Webster, hammer thrower Gwen Berry, and runner Aliphine Tuliamuk, along with six other athletes, according to the Women's Sports Foundation. Of the nine mom-athletes, six are headed to Tokyo.
"Balancing training with being a full-time mom is not always a pretty picture," says Lora Webster, Sitting Volleyball Player, mother of a 10- 8- and 5-year-old, and Power of She Fund: Child Care Grant recipient. "We don't have family nearby to help with the child care, so much of my training happens in our home with my kids acting as trainers. There have been many instances where we simply can't justify the cost of a babysitter on top of the cost of the gym and training site, so my training falls by the wayside."
Not only do the grants provide thousands of dollars to use toward child care, but they also provide the resources and support that mom-athletes need to focus on excelling in their careers. Plus, the recipients will participate in roundtable discussions — hosted by WSF, &Mother and the National Women's Law Center — to spark long-term, systemic change across the industry.
"I really do hope also that this spurs an industry-wide change, and we look to support women holistically," Felix says.
Starting July 8, mom-athletes in need of support for their child care expenses are encouraged to apply for the next round of Child Care Grants at WSF's website.
"Our vision at the Women's Sports Foundation is to unlock the possibilities in every girl and woman through the power of sport and movement," says Deborah Antoine, WSF CEO. "The expense of child care is one of the biggest challenges facing mom-athletes who want to stay in the game while also raising a family. These grants will help provide financial relief so that these powerful and inspiring women can continue to compete at the highest levels in their sport."