'Alternative Facts' Get The Meme Treatment They Deserve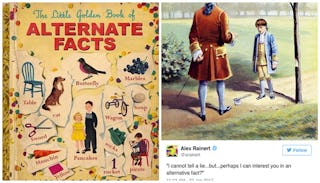 Images via Twitter
"Alternative facts" are "lies"
The Trump administration has invented a little thing called "alternative facts."
You've never heard of them, because they don't exist.
Here's a small recap of where "alternative facts" came from, and why the internet is having a field day skewering the concept right now. Instead of accepting the low Inauguration turnout, the Trump administration thought of a strategy — simply say pictures lie, our lying eyes lie, the media lies, and nothing we are experiencing is real.
These are two aerial photographs taken at approximately the same time during the Trump Inauguration (left) and Obama's 2009 Inauguration (right). On Saturday, during the largest protest this country has probably ever seen, Trump ordered a press conference. The White House Press Secretary, Sean Spicer, stood in front of the press and made this statement:
"This was the largest audience to ever witness an inauguration — period."
From Snopes: "Although the White House Press Secretary said that Trump's inauguration saw the "largest audience to ever witness" such an event, no reliable data backs up that claim. Trump's swearing-in saw fewer television viewers than four other inaugurations and prompted fewer Metro rides than both of Barack Obama's inaugurations, and an optical analysis conducted by a crowd safety consultant found that Trump's inaugural crowd size was significantly lower than that of 2009."
Translation: he lied.
The following day on "Meet The Press," Chuck Todd asked Kellyanne Conway, counselor to President Trump, about Spicer's blatant lie.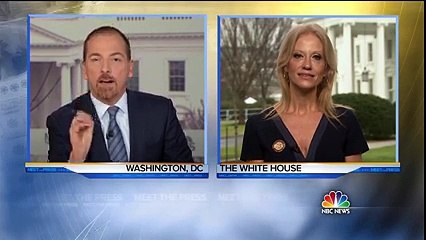 Chuck Todd: "Why did the president send out his press secretary, who's not just the spokesperson for Donald Trump. He could be– He also serves as the spokesperson for all of America at times. He speaks for all of the country at times. Why put him out there for the very first time in front of that podium to utter a provable falsehood? It's a small thing. But the first time he confronts the public it's a falsehood?"
They went back and forth a little after the question, because it's literally impossible for Conway to answer direct questions from the media, ever.
Todd: "Answer the question of why the president asked the White House press secretary to come out in front of the podium for the first time and utter a falsehood? Why did he do that? It undermines the credibility of the entire White House press office–"
Kellyanne Conway: "No it doesn't. Don't be so overly dramatic about it, Chuck. What– You're saying it's a falsehood. And they're giving Sean Spicer, our press secretary, gave alternative facts to that. But the point remains–"
Chuck Todd: "Wait a minute– Alternative facts? Alternative facts… Four of the five facts he uttered were just not true. Look, alternative facts are not facts. They're falsehoods."
THEY'RE NOT LIES, THEY'RE ALTERNATIVE FACTS. AND YOU'RE NOT STARING INTO THE ABYSS RIGHT NOW BECAUSE YOU CAN'T BELIEVE THIS IS OUR ADMINISTRATION TALKING, YOU'RE EMBROIDERING YOUR OWN MAGA HAT.
The internet was not having this "alternative facts" BS:
So just to recap:
There is no such thing as an "alternative fact."
This article was originally published on