Aly Raisman And 140 Of Larry Nassar's Victims Unite For Powerful Moment On ESPY Stage
by Thea Glassman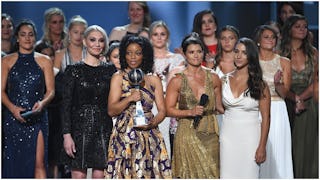 Image via Kevork Djansezian/Getty
Aly Raisman and 140 sexual assault victims shared a powerful moment at the ESPY awards
More than 100 sexual assault survivors took to the stage at the ESPY awards last night to accept the Arthur Ashe Courage Award. The women — who were each abused by former USA Gymnastics doctor Larry Nassar — joined hands on stage and delivered powerful speeches about assault, speaking out, and the importance of listening.
Before Jennifer Garner presented the award to all 140 courageous survivors, she warned audience members that the women were about to tell stories that would be difficult to hear.
"It's a story about what can happen in sports when something goes terribly wrong, when the dream of being an athlete turns into a nightmare," Garner said. "Even if the story we're about to tell you is hard to hear, we have to hear it."
And then, for a few deeply gutwrenching minutes, each victim descended onto the stage as pictures of themselves as children appeared on the screen.
Aly Raisman, Sarah Klein, and Tiffany Thomas Lopez each spoke about the horrific abuse Nassar inflicted on his young victims. They talked about being ignored when they reported that abuse. And they talked about Rosemarie Aquilina, the hero judge who let every single victim's voice be heard in court.
"1997, 1998, 1999, 2000, 2004, 2011, 2013, 2014, 2015, 2016. These were the years we spoke up about Larry Nassar's abuse," Raisman began. "All those years we were told, 'You are wrong, you misunderstood. He's a doctor. It's OK. Don't worry. We've got it covered. Be careful, there are risks involved.' The intention? To silence us in favor of money, medals and reputation."
She added that predators "thrive in silence" and inaction just continues the cycle of abuse.
"All we needed was one adult to have the integrity to stand between us and Larry Nassar," Raisman said. "If just one adult had listened, believed and acted, the people standing before you on this stage would have never met him. To all the survivors out there, don't let anyone rewrite your story. Your truth does matter. You matter and you are not alone."
Klein added that speaking up has been an extremely difficult, incredibly important process. "Telling our stories of abuse over and over and over again, in graphic detail, is not easy," she said. "We're sacrificing privacy and being judged and scrutinized, and it is painful, but it is time."
They also gave an appreciative nod to Judge Aquilina, who allowed 156 women to take the stand against Nassar, and tell their stories.
"For too long, we were ignored, and you helped us to rediscover the power we each possess," Raisman said. "You may never meet the hundreds of children you saved, but know they exist."
Side note: Aquilina was indeed truly amazing. She told Nassar during his sentencing: "I want you to know, as much as it was my honor and privilege to hear the survivors, it is my honor and privilege to sentence you. Because, sir, you do not deserve to walk outside of a prison ever again." Then she sent him to jail for up to 175 years.
Raisman concluded her speech with a powerful message to everyone who has ever been abused. "We may suffer alone but we survive together," she said.