Aly Raisman Shares Story Of Sexual Assault By U.S. Olympic Team Doctor
by Christina Marfice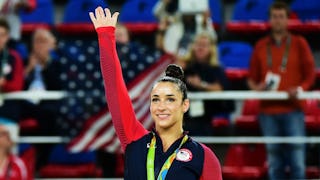 Image via Harry How/Getty Images
More than 140 women have accused Dr. Larry Nassar of abuse
Aly Raisman, a two-time gold medalist and captain of the U.S. Women's Gymnastics team in 2012 and 2016, has come forward to say that she, too, was sexually abused by the team's longtime physician, Dr. Larry Nassar.
Raisman joins McKayla Maroney, another member of the Fierce Five gold-medal-winning team who also claims Nassar sexually abused her for several years. More than 140 other women have accused the doctor of sexual misconduct, on the heels of hundreds of claims of sexual harassment and assault that have brought down some of Hollywood's most powerful men, including Harvey Weinstein and Kevin Spacey in recent months. Will it ever end?
In an interview with 60 Minutes that's set to air Sunday, Raisman went public with her allegations of abuse.
"I am angry. I'm really upset," Raisman said in her 60 Minutes interview. "I see these young girls that come up to me, and they ask for pictures or autographs, whatever it is … I just want to create change so that they never, ever have to go through this."
Raisman reportedly also details her abuse in her book, Fierce, which is due out next week.
Nassar was the USA Gymnastics team physician for nearly 20 years, beginning in 1996. He was fired in 2015, but it wasn't until five weeks later that USA Gymnastics alerted the FBI to claims that Nassar had sexually assaulted athletes, including children, under the guise of medical treatment. This is the first time Raisman has confirmed that she was among those abused by Nassar, but she's spoken out previously to criticize the way USA Gymnastics has handled the situation.
"It doesn't matter if you're the Olympic champion or you're an 8-year-old that goes to gymnastics in Ohio, or wherever you are in the United States," she said during an interview in August. "Every single kid is important, and I want USA Gymnastics to do a better job with that."
At the time, she declined to speak about her personal experiences with Nassar, instead asking that people focus on the overall scandal.
"It's important to speak up for something and it's right. It's the right thing," she said. "More people need to talk about it and I just feel that it's not getting enough attention in the sport. That's what bothers me. I want these young girls to know. It should have never ever happened and I think that needs to be discussed more."
Nassar has been back in the headlines since last month, when Maroney, Raisman's former teammate, came forward on Twitter to claim that the doctor had sexually assaulted her. He claimed it was medical treatment and at one point, drugged her with a sleeping pill and assaulted her while she was unconscious.
"People should know that this is not just happening in Hollywood," she wrote. "This is happening everywhere. Wherever there is a position of power, there seems to be potential for abuse. I had a dream to go to the Olympics, and the things that I had to endure to get there were unnecessary and disgusting."
Nassar already pleaded guilty to federal child pornography charges in July, and he's set to be sentenced next month. He also faces 33 charges of criminal sexual misconduct in Michigan.