Aly Raisman Is 'Heartbroken' Over 'Offensive' USA Gymnastics Settlement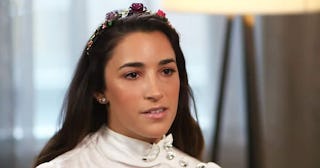 TODAY/Youtube
Aly Raisman continues to fight for the sexual assault victims of convicted felon Larry Nasser, sharing her outrage against USA Gymnastics' "offensive" settlement offer
Three-time Olympic gold medalist Aly Raisman was instrumental in the sexual assault conviction of former USA Gymnastics and Michigan State University doctor Larry Nasser, who was sentenced to up to 175 years in prison in 2018. From the moment she first revealed she was one of his abuse victims in 2017 to her beyond powerful impact statement in early 2018 prior to his sentencing, she has been an incredible advocate for the 140 known victims that Nasser abused during his years treating young athletes. Now that he's behind bars for the rest of his life, the heroic gymnast isn't done fighting for justice. Now she is taking on USA Gymnastics, claiming that they are involved in a "cover-up" and blasting their proposed settlement, which she claims absolves officials from liability.
https://www.instagram.com/p/B9NxG6fHVaU/
"It's honestly offensive," Raisman told NBC's Today on Monday. "It's devastating. It's incredibly draining. USA Gymnastics, United States Olympic Committee — they refused to take any accountability to address the issue, to figure out what went wrong. I am heartbroken that this is still going on."
The organization has proposed a $215 million settlement to compensate victims, with varying payments based on the location of abuse. The most offensive part of the settlement, is that former USA Gymnastics CEO Steve Penny, former national team coordinators Martha and Béla Károlyi, and the U.S. Olympic and Paralympic Committee would be absolved from all liability, which "shows they don't care," according to Raisman.
"They're just trying to push it under the rug and hoping people will forget about it when they watch the Olympics this summer."
She also maintains that too much information is still being covered up by USA Gymnastics.
"I don't know all the answers. And in order to make real change, we need to understand exactly what went wrong," she continued. "I personally would like to see USA Gymnastics and the United States Olympic Committee release all their documents and data because they are not doing that. They're not answering our questions."
However, USA Gymnastics expressed "deep respect and empathy for the victims" adding it was doing its best to achieve "justice for the survivors in an expedited manner" in a responsive statement to Raisman's comments.
Simone Biles, who was also sexually abused by Nassar, tweeted over the weekend that she too, still wants answers from USAG AND USOPC.
"Wish they BOTH wanted an independent investigation as much as the survivors & I do. Anxiety high. … And don't THEY also want to know HOW everything was allowed to happen and WHO let it happen so it NEVER HAPPENS AGAIN? Shouldn't people be held accountable?" she wrote.
Raisman also unleashed her fury, even tweeting at the organization.
"We have fully cooperated with all investigative bodies, including by producing information that they have requested," USA Gymnastics said in a statement Saturday in response to Biles' tweet. "Investigations have been led by Ropes & Gray (an independent law firm), several congressional committees, the Indiana Attorney General, and Walker County, Texas; and we will continue to cooperate. We are deeply committed to learning from these investigations, and finding ways to prevent abuse in the future. At the same time, we must respect the confidentiality and integrity of the mediation and SafeSport processes. We would welcome the opportunity to continue mediation and discussing how to best resolve the survivors' claims."