Aly Raisman's Impact Statement Made The Courtroom Burst Into Applause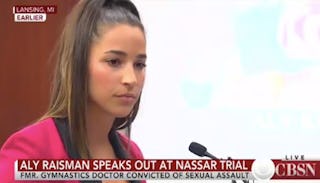 Image via Twitter/CBS News
Aly Raisman read her powerful statement which called out both Larry Nassar and USA Gymnastics
Former USA Gymnastics team doctor Larry Nassar is about to spend the rest of his miserable life in prison on children pornography and molestation charges but first, he's being forced to listen to over 100 victim impact statements in court with the girls and women he abused facing him to explain what his actions have meant for their lives.
Today was six-time Olympic medalist Aly Raisman's turn.
Raisman, a member of both the 2012 and 2016 USA Olympic teams, spoke directly to Nassar as she read her scathing 15-minute testimony. Her words were directed not only at him, but the USA Gymnastics and United States Olympic Committee for failing to do anything to stop the doctor from hurting so many young girls.
Originally, Raisman intended to submit a written statement to be read to the court, which is how teammate McKayla Maroney chose to tell her story, but instead, Raisman decided she wanted to be there in person.
She opened by explaining it was when watching the other "brave survivors" telling Nassar of his long-reaching impact on their lives that she realized "I too needed to be here."
Raisman then addressed Nassar directly, unflinching in her words. "Larry, you do realize now that we, this group of women you so heartlessly abused over such a long period of time, are now a force and you are nothing," she said. "The tables have turned, Larry. We have our voices and we aren't going anywhere."
"You are so sick," Raisman told him. "You took advantage of our passions and our dreams."
"I am here to face you, Larry, so you can see I've regained my strength, that I am no longer a victim, I'm a survivor," she said. "You caused me a great deal of physical, mental, and emotional pain. You never healed me."
Raisman was sure to let Nassar know that although he inflicted serious pain on her, she's standing strong — and won't let him get away with it. "Imagine feeling like you have no power and no voice. Well you know what Larry? I have both power and voice, and I am only beginning to just use them. I will not rest until every last trace of your influence on this sport has been destroyed like the cancer that it is."
Raisman didn't just direct her anger at the man who abused her — she came for the organizations that enabled him as well. "Neither USA Gymnastics nor the USOC have reached out to express sympathy or even offer support," she said. "If over these many years just one adult listened and had the courage and character to act, this tragedy could have been avoided."
She says USA Gymnastics is "rotting from the inside" and called their statements about future plans to care for athletes "empty promises."
"At this point talk is worthless to me … For this sport to go on we must demand real change. If we leave it up to these organizations history is likely to repeat itself," she said.
"Abusers, your time is up. Survivors are here, standing tall, and we are not going anywhere," said Raisman. She then told the judge how necessary an investigation is into how Nassar was enabled to abuse so many in the first place.
At the end of her testimony, the courtroom burst into applause. Judge Rosemarie Aquilina told her, "You are part of an unstoppable growing force… the effects of your voice are far-reaching."
You can watch her full statement below.
This article was originally published on