Alyssa Milano Is Getting Called Out On Social Media For Proposing 'Sex Strike'
by Cassandra Stone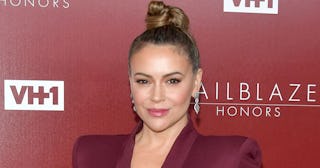 Amy Sussman/Getty Images
Alyssa Milano is catching a lot of heat for asking women to withhold sex from men as punishment
Actress and activist Alyssa Milano is calling for her followers to engage in a "sex strike" to protest anti-abortion laws, specifically Georgia's new "heartbeat bill." Milano shared on Twitter that she's proposing the strike to prevent pregnancy and bodily autonomy. The reaction on social media has been swift, with a majority of people not in favor of it at all.
The bill that prompted Milano's "sex strike" is the Georgia abortion law that, once it goes into effect, will make it illegal for medical professionals to perform abortions beyond six weeks, or when the fetal heartbeat can be detected. Because many women don't know they're even pregnant that early, and many more can't get medical appointments that quickly, the so-called "heartbeat law" is effectively a statewide ban on abortions. The Georgia law follows several new state laws in Mississippi and Ohio.
Milano's strike is in direct retaliation to anti-choice legislation, according to her Twitter explanation. "JOIN ME by not having sex until we get bodily autonomy back. I'm calling for a #SexStrike. Pass it on."
The tweet instantly garnered a ton of online attention and backlash, with many people pointing out sending such a message could do more harm than good.
A lot of people disagreed with Milano's message based on this very idea — that women's bodies are for men to consume, so we should stop providing them with access to our bodies.
While Milano's intentions here did likely mean well, the result of her words and how she chose to use her platform is what truly matters here.
https://twitter.com/jetpack/status/1127327130625421313
Other people were quick to call attention to grassroots organizations that protect women's reproductive rights — who are in need of donations to continue doing work on the ground.
https://twitter.com/jetpack/status/1127267452205793282
Mostly everyone was in agreement that Milano's response to the anti-choice legislation was a bad one.
For her part, Milano made it clear she doubles down on her stance, regardless of the criticism she's been receiving.
Like many people suggested on Twitter, perhaps our time, attention, and money should be going toward organizations who actively fight for women to continue to have power over their bodies and life choices. The National Network of Abortion Funds connects people seeking abortions nationwide with organizations that can support financial and logistical needs for the patient.
"Not being able to afford or access an abortion is not an individual problem," the site reads. "It's a systemic injustice. Together, we can fight back." You can check out their donation page and send some much-deserved funding their way.
The ACLU says they will challenge the laws in court, stating that it's in violation of Roe V. Wade.