Amal Clooney And Actor Husband Expecting Twins
by Valerie Williams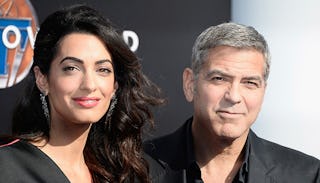 Image via Frazer Harrison/Getty Images
The exciting news about the Clooney's growing family was announced on today's episode of The Talk
Not content to let Beyoncé have all the fun, international human rights lawyer Amal Clooney and her husband, actor George Clooney, are expecting twins!
2017 is the year celebrities try to repopulate the world with their gorgeous spawn, apparently.
"The Talk" host Julie Chen broke the news on today's episode revealing that the expectant parents, who recently celebrated Amal's 39th birthday in Spain with Clooney's mother and father, are set to welcome twins.
Chen reports, "Beyoncé is not the only superstar expecting twins. Congratulations are in order for George and Amal Clooney. The Talk has confirmed that the 55-year-old superstar and his highly accomplished 39-year-old attorney wife are expecting twins. Give her the armrest, by the way, she's pregnant!"
Woooohoo! This year has been tough on us so far, and as much as we needed the news of Beyoncé's future superstars (and her amazing maternity photo shoot), hearing that the Clooneys are also expecting twins gives us a reason to smile in these uncertain times.
Clooney, a long-time bachelor after his first marriage ended in divorce, has always been a bit vague on the topic of becoming a father. As recently as 2015, ET Online reports that the actor said, "not really" when asked by CBS' Charlie Rose if he ever wants to have kids.
But it doesn't stop people from asking.
"I mean, I've thought about it, I suppose, but it hasn't been high on my list," he continued. "I've been asked it a lot lately, because I've gotten married and I am doing a movie with kids in it. You should see how different, how creative the way they ask me!"
He does look a little shell-shocked in recent photos, and to that we say, WELCOME TO PARENTHOOD, GEORGE.
Chen shares that the couple is due in June with their two little ones. We can't wait to hear more updates as the time gets closer!
This article was originally published on