Amanda Gorman Will Be The First Poet To Perform During The Super Bowl
by Christina Marfice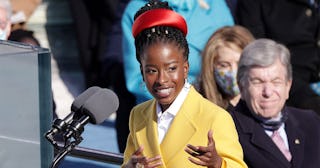 Alex Wong/Getty
If there's anyone who should be the first to ever perform poetry at the Super Bowl, it's inauguration poet Amanda Gorman
In case you somehow missed this, Amanda Gorman stole the show at Joe Biden's inauguration. The 22-year-old performed "The Hill We Climb," a powerful and inspirational poem she wrote about our country's racial and political divisions, with much of it finished as she watched the Jan. 6 riots by pro-Trump insurrectionists unfold at the U.S. Capitol. And now, she's going to be the first poet ever to perform at the Super Bowl.
On Wednesday, the NFL announced that Gorman will be an official performer at this year's game, which is one of the most-watched television broadcasts of the year. She will perform before the official coin toss, reading a poem that will recognize an educator, a nurse, and a veteran for helping their communities during the coronavirus pandemic. The NFL announced that the poem will be broadcast on CBS, where millions of Americans will be watching.
Gorman's poem will honor Trimaine Davis, a teacher who worked to secure electronic equipment for his students when schools were shut down; Suzie Dorner, an ICU nurse manager from Tampa, Florida; and James Martin, a Marine veteran who has been working throughout the pandemic to support other veterans in any way he can. Davis, Dorner, and Martin will be at the Super Bowl to serve as honorary captains of the Big Game. According to the NFL, they'll take part in the coin toss ceremony, which is televised from the middle of the field just before the game starts.
Gorman and her work gained national fame after she performed "The Hill We Climb" at the Biden inauguration. Since then, her books have become the top two best sellers on Amazon, and she's appeared on national shows like Ellen to share more about her powerful and inspirational work. She explained to CNN's Anderson Cooper that she drew inspiration from the works of Frederick Douglass and Abraham Lincoln while she was writing her Inauguration Day poem — two leaders who were powerful speakers during times the country was hopelessly divided.
"What it did is it energized me even more, to believe that much more firmly in a message of hope and unity and healing," she said. "I felt that was the type of poem I needed to write, and it was the type of poem that the country and the world needed to hear."
"Whenever I perform — and I definitely did it this time — I close my eyes and I say, 'I'm the daughter of Black writers,'" Gorman said. "We're descended from freedom fighters who broke their chains and changed the world. They call me."
You can hear Gorman's new poem during the Super Bowl broadcast on CBS on Feb. 7.
This article was originally published on