People Are Obsessed With These Best-Selling Amazon Hair Products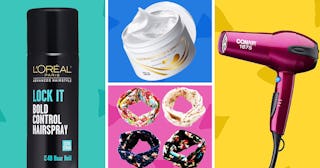 Amazon
Who doesn't love an amazing beauty product? If it works well and doesn't break the bank, we want to know about it. We may be busy moms, but that's even more reason to know which dry shampoo will keep our messy buns lookin' fresh even when we don't have time to shower.
Don't worry, ladies, Scary Mommy has you covered. We've done the research and compiled this killer list of must-have hair products. Every product on this list has hundreds, if not thousands, of rave reviews and you're going to want them all!
Here are some of our favorite best-selling Amazon hair products:
Over 3,000 5-star reviews say this biotin shampoo is practically magic for growing hair.
We all know hair straighteners are not created equal. This is the straightener, and unlike some of its competitors, it's totally affordable.
Listen, we've tried a lot of dry shampoo, and this is the best. It adds volume and doesn't leave your hair feeling sticking or heavy. Seriously, we're obsessed.
This thing is the ultimate time-saver. It dries and styles hair all at once, even thick, curly, or unruly hair. No, we're not kidding.
Ever wish your hair was longer? Well, these clip-in hair extensions will give you those long locks you've been dreaming of and they're under $10! Sounds too good to be true, but almost 3,000 5-star reviewers say it's not. They're available in several different lengths and 26 different colors.
This volumizing hairspray is a must-have! It has amazing hold and doesn't leave your hair feeling sticky or gritty.
If you or your kids wake up with a rat's nest of hair, you're gonna want to these satin pillowcases. They totally stop that nonsense.
Looking for those beachy waves? This curling wand from Tigi will give 'em to ya! Amazing reviews and affordable.
These bad boys prevent unsightly ponytail bumps and prevent ponytail headaches. They are great if you're someone who sleeps with their hair up at night.
If your hair is damaged or color-treated, this keratin mask is perfect for you. Apply, let it sit, then rinse.
Floral headbands are a great way to dress up a messy bun, and this 4-pack of bandeau headbands is a fan favorite! (Available in different colors and designs.)
A hair dryer doesn't need to be expensive to be amazing. This one, with over 1,500 5-star reviews, is proof of that.
If you start looking like Monica in Barbados when you go outside, you're gonna want this hairspray. It locks out humidity and is under $4.
This travel makeup case is perfect to store all your products when you travel. The slots are easily moved, which makes it totally customizable for your needs.
If you prefer the simplicity of and old-school curling iron, this one is for you, sister. It's got tons of awesome reviews and heats evenly to prevent damage.
How full is your cart right now? No judgment, ours too! With these amazing reviews and even better prices, it's hard not to buy it all.
We may earn fees from purchases made via links on this page and affiliated sites. All opinions are our own.
This article was originally published on