People Are Obsessed With These Bestselling Amazon Skin Products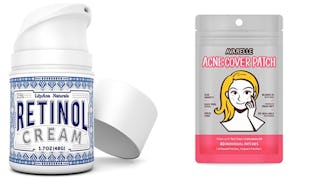 Image via Amazon
Give your skin a boost with some of Amazon's best-selling products
Is your skin feeling all kinds of blegh after a long, long winter? Give it a luscious, luxurious pick-me-up with some of Amazon's bestselling skincare products. People are obsessed with all of these bad boys and you're about to be too.
Looking for a toner that will sooth your skin? Go with this one. It's made from rose water, aloe vera, and witch hazel, and promises plenty of benefits (including lots of hydration, pore tightening, and scar fading).
Bring on all of the Vitamin C, all the time. This serum works to brighten skin, lighten acne scars, and improve overall tone. It's also packed with Vitamin E and hyaluronic acid, which delivers all of the hydration.
If you just want to work on your acne scars, go with Mederma. It tackles both old and new scars and promises to improve their texture, color, and overall appearance.
This two-in-one moisturizer will deliver all of the hydration to your face and body. It's made with hyaluronic acid and three essential ceramides, which help plump up your skin.
Or go with Neutrogena's water-gel moisturizer. It kicks dry skin to the curb with hyaluronic acid and absorbs quickly, so you don't have to deal with any residual moisture.
Have one (or two or three) pimples that are driving you up the wall? These patches are here to the rescue. They come in different sizes, blend into the skin, protect from dirt, and contain anti-inflammatory tea tree oil.
Or go with these patches. You can put them on at night and they'll soak up all that pus and other ickiness while you sleep. Also, it'll stop you from trying to pop your pimples (I know, I know…it's very tempting).
Introduce Jojoba Oil into your skincare routine for all of the moisture and oil production balance. It's packed with Vitamin E and B-complex and can be used for your body and hair, as well.
If the amount of sleep you're getting these days is close to zero, Baebody Eye Gel has got your back. The cream is made with Vitamin E, Jojoba Oil, and Peptide Complex, which will work to reduce those stubborn dark circles.
Retinol is a powerhouse. It's the ultimate anti-aging formula that also promises to fight against sun damage, acne scars, and uneven skin tone. Prepare for alll of the restoration.
Your skin is about to thank you for a whole lot of well-deserved TLC.
We may earn fees from purchases made via links on this page and affiliated sites. All opinions are our own.
This article was originally published on