Amazon Will Now Deliver A Live 7-Foot Tree To Your Door
by Valerie Williams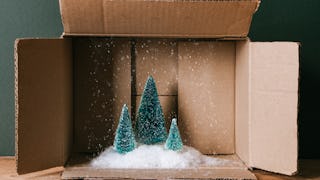 Image via Istock/Getty Images
Amazon is now in the business of live Christmas tree delivery
This holiday season, for those who just don't have the time, energy, desire, or joy in their hearts needed to head out and find a real Christmas tree, Amazon will come to your rescue.
Now, before we collectively roll our eyes that this is where we live now, let's acknowledge that this service is AMAZING for those who can't easily leave their homes due to illness or mobility issues or for someone that doesn't have access to a vehicle. Truly. It actually gets us choked up thinking of someone who wouldn't normally be able to get a live tree having one delivered right to their door. That's just awesome, nice work, Amazon.
Otherwise? OMG, get the heck out there and pick out your own dang tree. You don't even need to chop it down yourself (though I do that yearly and very much enjoy the ritual of marching my husband and kids around a tree farm for 90 minutes until I find the most perfect one in existence). You can go to a lot and pick it out. But for the love of Saint Nicholas and Buddy the Elf, there's no need for this delivery nonsense.
There's so few true joys in this world anymore, and so few traditions that involve a whole family, every one of them, hopping into the car and doing something downright jolly. Like, I'm completely confident that my family dearly looks forward to my pursing my lips and rejecting approximately 100 perfectly acceptable trees before settling on the winner. They love freezing their butts off and getting all muddy while I hem and haw. It's literally the highlight of their year, they tell me.
OK, they don't. And this Amazon tree delivery would probably make their season a lot merrier, but we press on. Because it's a tradition, dammit.
And they don't just have one type — they're offering several varieties including the balsam fir and black hills spruce, up to six and seven feet tall. A seven-foot Balsam fir will go for around $100 and would be sourced from a North Carolina farm. It will ship in four to seven days from the time it was cut and will include a bag for removal once you're done staring lovingly at it.
Look, this is obviously a great idea for some folks and we're here for everyone's version of holiday joy. But please don't take away the real thing for those of us who actually look forward to stomping around the tree farm driving our family nuts a la Clark Griswold.
We are a participant in the Amazon Services LLC Associates Program and may earn fees by linking to Amazon.com and affiliated sites.
This article was originally published on