Amazon Has Made Some Of Its Kid Content Free -- Even If You Don't Have Prime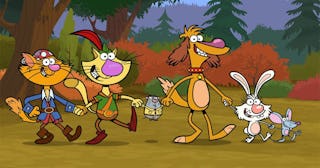 PBS
Amazon is doing parents a solid during coronavirus quarantine and making some of its kid content free to everyone
Are you a parent about to lose your ever-loving crap while quarantined with kids you are also homeschooling? While also possibly working full-time from home? It's… a lot, right? This whole terrifying global pandemic plus the almost total screeching halt of our normal lives is a ton to take in, and all the while, kids will be kids, and kids need constant entertainment. Enter Amazon. They've done parents a huge solid by making some of their kids content free to anyone, even if you don't have a Prime membership.
Just when you think you've run out of quarantine streaming content to occupy your kids while you hop on endless conference calls for work, Amazon swoops in and saves the day by making a selection of kids and family content available free to watch on Prime Video for all Amazon customers. Titles available include the Amazon Original series Just Add Magic, Pete the Cat, If You Give A Mouse A Cookie and more, as well as licensed content like Daniel Tiger's Neighborhood, Odd Squad, and Arthur.
Like, if you want to lessen the chances that your child runs past the camera wearing no pants while you're on that all-important video call with your boss, definitely take advantage of Amazon's huge catalog of kids content. They have a bunch of PBS Kids series, movies like Scooby Doo, Shrek Forever After, Little Giants, and tons more for all age groups.
Thankfully, lots of people are stepping up in an effort to entertain our newly homeschooled kiddos during their breaks from school work. Like author Mo Willems who is doing a daily Lunch Doodle to keep kids busy and teach them to draw.
Frozen's Josh Gad is adorably reading bedtime stories to little ones during the corona lockdown. A daily dose of Olaf should make most kids go to bed easily after a long day of social distancing. Or so we hope.
Meanwhile, Ellen is just being completely hilarious and is entertaining people of all ages while staying at home to help combat the spread of coronavirus. She's failing at puzzles, cold-calling celeb friends, and reading her very boring home decor book to kids. It's extremely good content overall.
Look — being quarantined with your kids for an unknown number of weeks is never going to be easy, so let's just say we're pretty thankful for fun celebs and Amazon for helping us out a little bit until life can return to normal.
This article was originally published on