Amazon Is Doing Free One-Day Shipping Through The Holidays!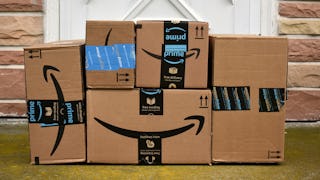 Image via Julie Clopper/Getty Images
Amazon Prime will now do same-day delivery to 8,000 cities until Christmas Eve
Just in time for you to leave all your holiday shopping until the last minute (LOL, as if you weren't going to do that anyway), Amazon Prime just announced expanded one-day and same-day delivery for Prime members. The retail giant is now offering free same-day delivery in over 8,000 markets, according to Tech Crunch, so this isn't even just in big cities. It's practically everywhere. What is this sorcery?
It includes, but is not limited to, large and small towns in Arizona, California, Florida, Illinois, Indiana, Maryland, Minnesota, Nevada, New York, Oklahoma, Texas, Virginia, Washington, Wisconsin and more, according to Tech Crunch. That's a pretty huge improvement over when same-day delivery was first introduced by Amazon last spring, and was only available in 27 metro areas.
That means that Prime members have up until 9:30 a.m. on Dec. 24 to order Christmas gifts, and they'll still arrive in time for the big day. It's mind blowing.
And 9:30 a.m. is just the deadline for a guaranteed delivery. Amazon representatives told Mashable that when they did this last year, the last fulfilled holiday order was placed right down to the wire.
"We are continually investing in Prime, adding more selection and making delivery faster and more convenient," Amazon Prime's vice president, Greg Greeley, said in a statement. "In fact, in 2016, the last Prime Free Same-Day order from Amazon.com delivered in time for Christmas was ordered at 10:23 a.m. on Christmas Eve. The order included Venum Contender Boxing Gloves, and was delivered to a Prime member in Richmond, Virginia at 2:42 p.m. – the very same day, for free."
There are some restrictions that apply. Obviously, the smallest and most remote towns aren't going to have same-day shipping available. Free same-day and one-day shipping is only available through 11:59 p.m. on Christmas Eve, and only applies to orders over $35. According to Amazon, though, over 100 million items qualify at that price point.
If you're not a Prime member but still want to take advantage of this saving grace for last minute shoppers, it's possible. Same-day delivery is available for anyone for $8.99, plus an additional 99 cents per item.
And in its apparent bid to control all last-minute holiday shopping everywhere, Amazon-owned Whole Foods stores and Amazon's chain of brick-and-mortar bookstores will also be open nationwide on Christmas Eve, selling gifts, food and gift wrap.
Bless you, Amazon Prime.