Amazon Is Having A Major Sale On Baby Gear And Just Take All My Money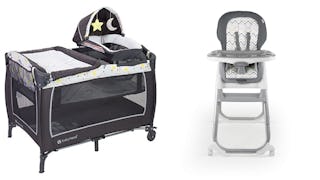 Image via Amazon
Amazon is having a huge sale on baby gear and it's going to last all month long
Are you ready for your February to get exponentially better? Amazon is having a massive sale on baby gear and it's going to last all month long, with new deals added throughout. Prepare to stock up on so, so many goodies. Discounted car seats and toys and strollers, oh my!
This car seat comes with two layers of side impact protection and has an easily adjustable harness that makes a clicking sound when it's tight enough. Three cheers for lots of safety and comfort.
The whole wiping/diapering process just got so much easier with this diaper wallet. It can pack two diapers (or four newborn diapers) and holds around twenty wet wipes for up to six weeks. It also comes complete with a change mat, so you can wipe, clean, and go.
This fast-heating bottle warmer offers three levels for milk warming and food heating. It also includes steam sterilization and is built to fit most bottles. Nighttime feeding just got a wee bit more bearable.
Speaking of feeding, this high chair is putting in the work during mealtime. It has a soft, comfy seat, keeps your baby safe with a 5-point harness, and can be converted into a booster or toddler chair. The material is totally wipeable and washable which means your kids can spill ALL THEY DAMN WANT.
Okay, now let's talk about trying to get a decent night sleep. This battery-operated, portable sleep aid comes with a soft night light and seven soothing sounds for your baby. Here's to (hopefully) eight hours of uninterrupted shut-eye on your end.
This stroller is designed for your baby's comfort and your active lifestyle (even if that active lifestyle involves walking, like, three blocks to get ice cream). It offers a sun visor, comfy shoulder pads, and a reclining seat. There's also a five-point safety harness and two cup holders (*ahem* ice cream holders).
You're about to get organized AF. This diaper caddy has eight compartments, is foldable, made from super strong fabric, and has totally waterproof lining. So many wins all around.
This napper will serve as a cozy little sleep station for your baby and offer up some fun entertainment in the form of sun and moon toys. There's also a flip away changing table, so you can get some quick diaper duty done.
This goodie offers three regular nursing pads and three thick, absorbent overnight pads. They're also reusable and heart-shaped, if you're into that sort of thing.
The swaddling process just got a whole lot cuter with this super soft, super plush unicorn blanket. Helloooo coziness.
This playard is super easy to open/close, comes with a removable bassinet, and has a travel bag so you can bring it on the go. They had me at easy to open.
Now, get ready to up your entire baby gear game all month long. February just became somewhat more tolerable.
We are a participant in the Amazon Services LLC Associates Program and may earn fees by linking to Amazon.com and affiliated sites.
This article was originally published on