If You Didn't Know About These Amazon Sample Boxes, You're Missing Out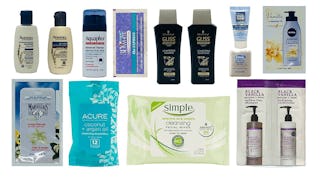 Image via Amazon
I love to travel. I hate to pack. Once I figure out how many pairs of underwear I will need, outfits that meet casual and dressy events with shoes to go with them, squeeze in my sneakers and workout gear and a book or two, I have over packed. And I still need to fit in my toiletries.
I am cheap when it comes to shampoo and lotions and body wash. Cheap means GIANT bottles because I can get more for my dollar if I buy in bulk. There is no way in hell I am bringing those along, and I am never in the mood to funnel shampoo from my 80 oz. bottle to a 3 oz. one.
Enter Amazon Sample Boxes.
Prices range from $6.99 to $19.99 and the variety of samples will fit all your travel needs, from snacks to shaving cream. Only Prime members are able to purchase these awesome boxes, which ship for free in 5-7 business days. But the best part is the credit you will get for future purchases. Spend $19.99 and Amazon will give you $19.99 toward a full-sized product you fell in love with from the sample box. You are basically being paid to try out new and exciting products while eliminating the hassle of fitting Costco-sized conditioner in your suitcase—which WILL somehow leak and get all over your shit.
Here are five of my favorites:
All trips need snacks. The Snack Sample Box offers a glorious mix of naughty and healthy treats. Sometimes you need to detox a bit and gnaw on a protein bar. Other times you need a bag of Doritios and time with your faux cheese coated fingers.
The Women's Skin and Hair Care Sample Box has exactly what I need for a few days away. Floss, toothpaste, and Aveeno products that are perfect for my sensitive skin. Oh, and there are cleansing towelettes and face wipes so if I didn't want to shower, I don't really have to. Did I mention the anti-aging cream with SPF 30? Perhaps that will prevent years lost from traveling with kids.
There is nothing wrong with dudes who want to spend time on themselves and their skin. In addition to the travel basics of soap and toothpaste, the Men's Luxury Grooming Sample Box has colognes and facial cleansers to try. Short of the beard lube (though sometimes I forget to pluck my chin hairs and feel like I have a beard), there is nothing wrong with women using these samples too.
Heading somewhere sunny? Or anywhere that will expose you to sun and the eroding ozone layer? Check out this awesome Luxury Sun Care Sample Box of sunscreens, moisturizers, and tinted SPF 15 lip balm.
The Optimum Nutrition Sample Box is as appealing to me as the snack samples. Sure, I need to pack shampoo, but traveling can throw my diet off. Because I like to exercise often and hard, I need to be sure to refuel too. These protein powders allow me to make a shake or smoothie while on the road without having to figure out a way to scoop single servings from my tub at home or buy a $4 energy drink at a convenience store.
If these don't float your boat, no worries. Amazon offers other boxes with a variety of luxury lotions, serums, oils, and creams. There are more snack and wellness boxes too. There is even a box for your favorite four-legged doggy friends. Happy sampling!
Editors may receive samples and/or a share from purchases made via links on this page. All opinions are our own.
This article was originally published on