These Are The Best Sandals For Traveling This Spring And Summer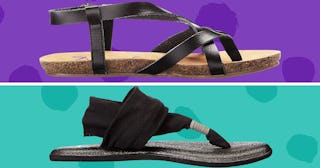 Amazon
It's never too soon to start thinking about sandals
If you're planning on traveling this spring or summer (woo hoo), or just need some reliable, comfortable sandals without sacrificing style — look no further. This list is full of the best-selling, highest reviewed warm weather footwear on Amazon, and it's not hard to see why.
These sandals are contemporary, stylish, and comfortable — what more could you ask for? Oh, right, they're super versatile too. Meaning you can pair these with jeans, shorts, or a sundress and call it a day. All without sacrificing your skin to blisters. They come in a variety of sizes and colors.
Not only do these "flatform" espadrille-style sandals have the perfect look for any sort of spring/summer travel, but they're also comfortable and reliable too. Pair them with a dress, skirt, or a pair of shorts and be on your way. These come in a variety of sizes and fun colors.
These incredibly popular yoga sandals are amazing because the bottoms are literally made out of a yoga mat. Do you know how amazing your feet feel walking around on little yoga mats every day? The straps are made from stretchy fabric and there's pretty much no chance these sandals will be bothering your feet during a busy day of traveling. They come in a ton of colors, too.
Crocs aren't just for the kids! These sandals (as well as most Crocs brand sandals) are so incredibly comfortable and reliable, you'll wonder why you didn't buy a pair sooner. These sleek t-strap sandals are great for dressing up or down, and come in a few different colors.
The hand-braided rope design and durable rubber make for a sturdy but still fashionable option for summer footwear. Especially if you're walking along beaches, lakes, or even pool areas — these are the perfect pair of shoes to wear with your bathing suit or traveling clothes. The footbed design reduces aches and pains and promotes shock absorption. There are more colors to choose from, too.
They're classic and insanely popular for a reason. All Birkenstocks are great for foot support and comfort, and they're definitely made for exploring. The Mayari sandals have a flattering style and stay put on your foot. Plus there are tons of colors to choose from.
These sandals received American Podiatric Medical Association Seal of Acceptance, which means they are probably an excellent option if you're planning on wearing them a lot or doing a fair amount of walking in them. They're also sophisticated and sleek enough to dress up or dress down, too.
These lightweight, classic travel sandals can be worn for a hike, a swim, or just about anywhere. They adjust well to any foot size so they provide the perfect amount of comfort for you. There are ton of colors and patterns to choose from.
This gladiator-inspired sandal has a hook-and-loop strap and backstrap for added stability and support. The Dorith has a feminine design at the front. Naot's anatomic cork & latex footbed is wrapped in suede and molds to the shape of the foot with wear.
These sandals are made of soft leather and have a cushioned, micro-fiber footbed — who wouldn't want to walk around in that all day? They're also lightweight and stylish with flexible straps.
No matter where you're going, you deserve good and reliable footwear to get you from point A to point B in style without sacrificing comfort.
We may earn fees from purchases made via links on this page and affiliated sites. All opinions are our own.
This article was originally published on