Amazon Sidewalk Will Share Customers' Internet With Neighbors
by Christina Marfice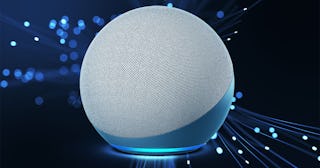 Amazon and shulz/Getty
Is Amazon Sidewalk as scary and invasive as it sounds? Here's what you actually need to know
If you've been on any social media platform in the last few days, you've probably seen your friends sharing information about Amazon Sidewalk, a new feature coming to Echo and Ring devices that will allow them to share home internet connections with one another. While there's a lot of misinformation floating around about Sidewalk, there are also legitimate concerns about privacy, terms of service from your ISP, and other issues. Here's what you actually need to know.
What is Amazon Sidewalk and how does it work?
Amazon Sidewalk is a new free service that was automatically switched on yesterday. That means that most Echo and Ring devices were automatically added to a network where they each share a tiny bit of their owner's home internet with one another. This allows them to do a few cool things:
New device setup becomes faster and easier.
If you internet ever goes down, your smart devices can stay connected via your neighbors' internet.
All of the connected devices create a "mesh" of internet, so tools like Tile never go out of range. You can, theoretically, use a Tile to track your child or pet anywhere in your city.
Sidewalk is limited to using only 500 MB per month from each user's internet account — about the same amount as 10 minutes of video streaming. Amazon promises that more cool features are coming in the future because of Sidewalk.
Why are people sharing scary memes about this?
The main problem people have is that sharing private internet connections among members of a neighborhood raises some serious privacy concerns. We all know that allowing strangers access to your home internet is risky, because you don't know what they're using the web for. Similarly, there are concerns that people's private data could accidentally end up in their neighbors' hands, or that Sidewalk will make their devices more vulnerable to hackers.
Amazon has tried to address these concerns by giving Sidewalk a three-layer encryption — and Amazon is one of the most secure companies on the internet. But no safeguards are 100 percent effective, and it's impossible for a feature like Sidewalk to come with no risk to users.
The other problem with Sidewalk's launch is that Amazon opted certain devices in by default, meaning that users are automatically added to the Sidewalk network, and have to manually turn that off if they don't want to participate. Your internet service provider (ISP) might have it in their terms of service that you can't allow strangers access to your network, so this automatically enabled feature might cause a lot of people to unwittingly violate their internet service contracts.
So how do you turn it off?
If you own an Echo device, go to the Alexa app on your phone, then to settings, account settings, and Amazon Sidewalk. Then toggle the switch to "Disabled."
If you own a Ring device, go to the Ring app on your phone, then to Control Center and Amazon Sidewalk. Then toggle the switch to "Disabled."
The devices that had Amazon Sidewalk automatically enabled this week include Ring Floodlight Cam (2019), Ring Spotlight Cam Wired (2019), Ring Spotlight Cam Mount (2019), Echo (3rd Gen and newer), Echo Dot (3rd Gen and newer), Echo Dot for Kids (3rd Gen and newer), Echo Dot with Clock (3rd Gen and newer), Echo Plus (all generations), Echo Show (all models and generations), Echo Spot, Echo Studio, Echo Input, and Echo Flex.