Amazon Has Its Own Skin Care Line, And We Are Loving It
by Team Scary Mommy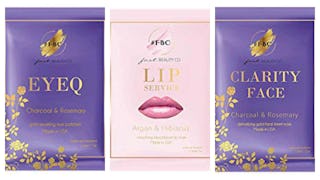 AMAZON.COM
It feels like a holiday because Amazon just launched its own skincare line and we are freaking out. It's super affordable, and made in the USA with all natural ingredients. Load up that shopping cart and hit the "buy with one click" button and rejoice.
Oh, and P.S., the packaging is the cutest ever which makes these little plumping beauty treatments the perfect gift for all your besties.
Pucker up with a lip mask that maintains your lip's natural moisture and keep them full and vivacious and plumping fine lines and wrinkles around your mouth.
Get brighter and tiger under eye skin in a few minutes. These patches contain rosemary, charcoal, and caffeine to keep your eye bags at bay.
You need more than one mask to keep all your areas looking plump and fresh and you can't beat the convenience of getting them all at once. We love this pack of three 100% Biocellulose masks.
Have lips stay so kissably soft, and watch fine lines plump away with this moisturizing lip mask made with Argan and Hibiscus.
You will love these make up wipes that make your bedtime routine so much easier. They wipe away makeup and unclog pores with a few swipes.
One gold mask and one silver mask — these aren't only fun to wear, they give your skin a refresher with charcoal and Rosemary.
Don't forget about your neck, a body part that can be the first to show signs of aging. We don't just need face masks we need neck masks, too.
Get firmer skin with this mask that contains plant-based collagen to improve elasticity and get that post-facial glow.
In five minutes, this gold patterned sheet mask will detoxify as it works like a magnet to get rid of dirt and oil in your pores. An added bonus is it will make a great Instagram post.
Smooth it on out with this mask full of antioxidants that will help you put your best face forward.
Clear your schedule, cleanse away the day with Fast Beauty wipes, then pour a glass of wine and get your sheet mask on.
We may earn fees from purchases made via links on this page and affiliated sites. All opinions are our own.
This article was originally published on