Here's The Toys Amazon Predicts Your Kids Will Beg For This Holiday Season
by Christina Marfice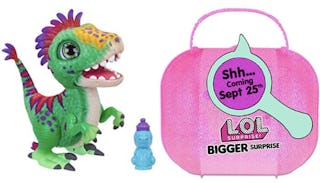 Images via Amazon
Amazon just decreed that the holiday season is here by releasing its Top 100 Toys list
It's early September, and in many cities and states across the nation, kids had their first day of school this week. It's not even technically fall yet, and there are still several major holidays between now and Christmas. But what the heck, let's just go ahead and start the holiday shopping season now, because Amazon said so by releasing its top 100 toys list.
It's officially time to start four months of gift planning, even though we're all going to procrastinate long enough to need that free two-day shipping that comes with our Prime memberships, because of course we are.
'Tis the season, so here are the toys Amazon predicts your kids will be begging you (and Santa) for several months from now — or, at least, a few of our favorites. There's literally 100 of them, so you'll probably want to peruse the full list at some point. Bookmark them now, and you'll know exactly what those youths are talking about, months before sending a letter to the North Pole even occurs to them.
furReal Munchin' Rex
furReal pets are already faves because of how off-the-chain adorable they are. The new T-rex version is no exception. He hops around and begs for treats, and may find them "yummy" or "yucky" based on his little electronic whims, like babies of basically all species.
Lego Harry Potter Hogwarts Great Hall Building Kit
Lego deserves a spot on every holiday list, but this Harry Potter Great Hall kit is seriously next level. From tiny goblets on the dining tables to a disappearing staircase to the Whomping Willow outside, no detail is spared here for your little Potterhead. Or yourself — no one's judging.
L.O.L. Surprise! Bigger Surprise!
The YouTube unboxing video that some genius turned into a toy is back, and even bigger than last year's must-have gift. The new L.O.L. Surprise! Bigger Surprise! will contain more than 60 tiny surprises for kids to unbox. Get ready to find them under your feet everywhere in your home, because of course.
Exploding Kittens
For fans of The Oatmeal, cats, or just some really dark humor, there's Exploding Kittens, a card game featuring felines in all kinds of compromising situations. It'll have the whole family — kids and grownups alike — laughing at game night.
USAopoly World of Harry Potter Ultimate Edition Trivial Pursuit Board Game
What's the ultimate way to test a fan's knowledge of the Harry Potter universe? The Harry Potter Ultimate Edition Trivial Pursuit Board Game, of course. Get the whole family involved in separating the witches and wizards from the Muggles and Squibs.
WowWee Fingerlings Untamed Jailbreak Playset
Dinosaurs are apparently a huge thing this holiday season — as they should be. This prehistoric Fingerlings set comes with an exclusive pair of dinos: T-rex "Jailbreak" and velociraptor "Bolt," as well as a cage that clearly can't contain them.
Pikmi Pops Cinnabun The Bunny
The latest plush poof that reverses into a cute animal toy is this giant bunny — and the eight surprise items hidden inside.
Crate Creatures Sizzle Collectable Toy
Use the included crowbar to pop open his crate and reveal Sizzle, a creature with glowing eyes and a motion sensor that helps him interact with his new human friends. Pull on his tongue, knock him over or flip him upside down to see how he reacts.
Ozobot Bit Coding Robot
For a fun toy that will teach your kids valuable technology skills, check out the Ozobot Bit Coding Robot, which helps kids learn basic, beginner coding as they program the robot to follow their commands.
Don't Step In It Game, Unicorn Edition
Don a blindfold and try your best not to step in colorful piles of unicorn poo with the newest version of Hasbro's Don't Step In It Game. You get to create your own poop piles using the included mold, and then dodge them with friends or solo. As you do.
Some of these items are still only available on pre-sale, and some are already sold out. If Amazon is right and they really are this holiday season's must-haves, here's your chance to nab them before the huge holiday rush. You know, because it's barely September. Plenty of time.