Amazon Wildfire Smoke Is So Bad You Can See It From Space
by Madison Vanderberg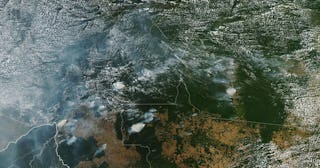 NASA
The wildfires in the Amazon rainforest are so bad that you can see the smoke from space
If you've spent any time on Twitter this week, you might have seen the heartbreaking photos circulating from the Amazon rainforest in Brazil. The Amazon fires have been blazing for nearly a month and according to the National Institute for Space Research (INPE) and Reuters, the Amazon is experiencing 80 percent more fires this month than August of last year. Not only that, but the fires have gotten so bad that you can actually see smoke from outer space.
NASA shared satellite photos that show smoke covering the Brazilian states of Amazonas, Rondônia, Pará and Mato Grosso. The first photo was taken on August 11, 2019 and the second just two days later.
According to Reuters, wildfires are common during these months, but many of the fires were started by farmers in an attempt to clear the land for cattle ranching, which is illegal at this time of year because of the high risk that the fires will spread. To make matters worse, Brazil's president Jair Bolsonaro — who took office in January — vowed to develop the Amazon region for farming and mining. When Bolsonaro was asked about the surge in wildfires, he brushed it off, saying this was normal for the dry season. However, when the director of INPE said that human activity and deforestation is the reason behind the excessive fires, Bolsonaro fired him.
The fires are so powerful that on Monday, August 21, 2019 the skies above Sao Paulo — which is 1,700 miles away — went dark with smoke.
"It was as if the day had turned into night," a Sao Paulo resident told the BBC. "Everyone here commented, because even on rainy days it doesn't usually get that dark. It was very impressive."
Earlier this month, the state of Amazonas declared a national emergency.
For the last month, the hashtag #PrayForAmazonia has gone viral, however, as Mother Jones pointed out — most of the viral photos from the Amazon fires on Twitter are fake, so be wary of what you share. That being said, the Amazon is burning down. The fires have reached unprecedented levels and many fear that Brazil's right-wing President is unsympathetic to the rainforest in his attempt stay in good favor with the farmers who are now allegedly participating in illegal deforestation.
If you'd like to help, Cosmopolitan suggests protecting an acre of rainforest through the Rainforest Action Network or helping rainforest animals by donating to the WWF. Fast Company suggests donating to Amazon Watch, which directly supports the rainforest's indigenous people. Also, the easiest way to help the rainforest is to consume less processed beef as rainforest beef is typically found in fast-food hamburgers.