Former Dallas Cop Found Guilty Of Murdering Botham Jean In His Home
by Valerie Williams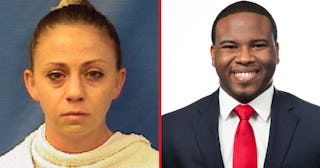 Kaufman County Jail and Facebook
Amber Guyger found guilty of murdering Botham Jean after entering his apartment and shooting him, later claiming she thought it was her own home
More than a year ago, former Dallas police officer Amber Guyger broke into the home of a black man and shot him dead, claiming she thought the apartment was her own and he was an intruder. After a much-anticipated murder trial, a guilty verdict was returned today.
Guyger shot and killed Jean, a 26-year-old accountant who was sitting on his couch, watching TV and eating ice cream before the former officer barged into his apartment and ended his life. Guyger tried claiming she had gotten confused and that she thought his apartment, which is one floor above hers, was her own home. Her arrest warrant states that she was able to get into Jean's apartment because the door was slightly ajar. She said she fired twice after her ignored her commands. Guyger was in uniform at the time, but off duty.
Guyger was fired from the force and indicted on murder charges a few months later.
Local news reports that Jean's family was "hugging, crying in the courtroom" after the verdict was read. An attorney for the family, Ben Crump, said in a statement: "Nothing will bring Botham back but today his family has found some measure of justice," he said. "What happened on September 6, 2018, is clear to everyone: This officer saw a black man and shot, without reason and without justification."
"The jury's thoughtful verdict sets a powerful precedent for future cases, telling law enforcement officers that they cannot hide behind the badge but instead will face justice for their wrongful actions," he concludes.
Over the course of her trial, Guyger's defense team argued that other residents in the building, who later testified, claimed they too had gotten confused and parked on the wrong floor before realizing they weren't on the correct one. The former officer also expressed remorse over having ended Jean's life. "I feel like a terrible person. I feel like a piece of crap," she told the courtroom. "I hate that I have to live with this every single day of my life. And I ask God for forgiveness, and I hate myself every single day. I feel like I don't deserve a chance to be with my family and friends. And I wish he was the one with the gun who killed me."
She also claims the murder had nothing to do with Jean's race. "I was scared this person inside my apartment was going to hurt me," she said. "This is not about hate, it's about being scared that night."
The jury began deliberating Monday afternoon and returned their guilty verdict by Tuesday morning. After hearing her defense argue that they should consider the legal protection of "castle doctrine," in which a person is given immunity after using deadly force to defend themselves, the jury seemed to feel the prosecution's points were stronger. They told the jury how Jean's apartment had numerous differences from Guyger's, including a red doormat hers did not have. Her apartment also had a large entry table, which Jean's reportedly did not.
Guyger now faces a maximum sentence of life in prison. Another Jean family attorney, Lee Merritt, called the verdict a "huge victory" for the family as well as "all black people in America."