Amber Rose Reveals Hyperemesis Diagnosis In Instagram Video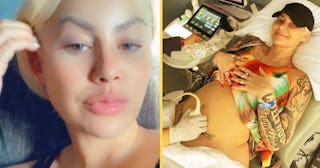 Amber Rose via Instagram
Let's just take a moment to virtually hug all the women who have hyperemesis
Model and feminist activist Amber Rose is expecting her second child — she has an older son, Sebastian, with rapper Wiz Khalifa — and she's revealing just how difficult her pregnancy has been so far. Which is something so many of us can relate to.
In a series of Instagram videos, Rose says she's been diagnosed with hyperemesis gravidarum — just like she was during her first pregnancy. She explains it as "basically extreme nausea, vomiting, and dehydration."
"I'm really, really tired. I can eat a little bit more now because I'm in my second trimester, but not much, and I pretty much sleep all day," she says.
https://www.instagram.com/p/Bx_Q_FdHfMu/
According to the American Pregnancy Association, hyperemesis gravidarum is "a condition characterized by severe nausea, vomiting, weight loss, and electrolyte disturbance. Mild cases are treated with dietary changes, rest, and antacids. More severe cases often require a stay in the hospital." Hyperemesis affects between 0.5%-2% of all pregnant women, and prompts 192,000 hospital visits annually.
Kate Middleton suffered from HG through all three of her pregnancies and endured brief hospital stays during each of them. New mom Amy Schumer was very open and candid about the realities of a hyperemesis pregnancy, too. She experienced multiple hospital stays and eventually had to postpone her comedy tour due to the sickness.
https://www.instagram.com/p/BxIit1MnEN9/
"God bless women," Rose says in her Instagram post. "We are resilient. We can do it. It's really, really hard being pregnant, I'm not gonna lie."
She says she's been sleeping and trying to eat more now that she's in her second trimester in order to cope with the symptoms, but the illness makes it difficult. Anyone who's had hyperemesis, extreme, prolonged "morning" sickness, or just a rough pregnancy overall — well, we can all send a virtual hug in solidarity. Because pregnancy is no picnic.
https://www.instagram.com/p/BvzwwNInbQv/
Rose revealed that she was expecting a baby boy with boyfriend Alexander Edwards earlier this spring. Hopefully, like Schumer recently shared, all sickness symptoms disappear the second her new baby is in her arms.
"To all the women out there who pop out babies like it's nothing, God bless you guys, cause oh my God, it is just a lot," she says. "I want to be out. I want to be cute. I want to show off my belly, but I just can't get off this couch! I'm tired, and I just want to barf all day, it's just not fun. But it's totally worth it."