Amber Rose Took Her Toddler Son For A Pedicure And People Freaked
by Mike Julianelle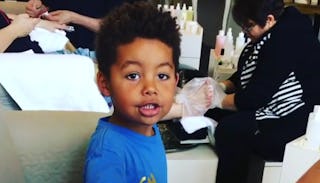 Image via Instagram
People can't handle the fact that a mom brought her son to get a pedicure because people are ridiculous.
Amber Rose took her child for a mani-pedi, which would be totally acceptable and normal and not at all something anyone would judge – except for the fact that her child is a boy.
The almighty internet is not happy about the mom's decision to treat her son to activities that are traditionally thought of as feminine, and when the model shared a video of her son getting his nails painted, the swarm weighed in.
Rose explained what was happening in her caption: "Pumpkin nails with Mr Skully Bones #HalloweenisNeverOveratOurHouse…We encourage our children to paint, draw and be creative so why block them from their creativity when it comes to self expression? Fuck society standards and gender roles! Let your children be great!"
People weren't having it. Because people are delightful. They saved most of their ire for the fact that the little boy, the three-year-old boy, got his nails painted.
Instagram user Inifiti_semaj_us chimed in with the enlightened, "That baby don't need no damn polish HE IS A BOY SMH."
User Harry the Bossman commented, "Getting your nails painted is feminine you setting him up to be a fruitcup."
Harry the Bossman is right (as always)! I remember the study I read in the New England Journal of Medicine that definitely explained how painting your nails turns a person gay. It's why one of the Republican Congress's first priorities is to ban all nail polish!
Not everyone was so alarmist and judgmental. Some commenters praised Rose for "allowing her child be who he wants to be" and "I think it's great that you are letting him express himself in whatever way he wants. Good mommy!" Thank god some people have a little perspective. Others went a little further, praising the mom for tearing down gender walls, which, I guess, not really, but maybe?
I'm not sure either extreme is particularly valid – she's obviously not turning her child gay because you can't turn someone gay and she's not tearing down gender walls by letting her kid get his feet rubbed a little bit. She's simply not imposing unnecessary stereotypes or guidelines on an innocent little boy who merely likes the color orange.
There's absolutely nothing wrong with a mom taking her son to get his nails painted, a dad who lets his daughter play sports, or a mom who lets her son wear a tutu. These kids don't have an agenda, and in 99 situations out of 100, neither do their parents. They're simply letting their kids be kids, and resisting the impulse to restrict their behavior to traditional expectations and guidelines.
Let the kids explore. Let them discover their own personalities free of the often harmful constraints society presses upon them. The less we force our children into our own petty little boxes, the more free they are to be individuals.
And personally, I'd never let my son get his fingernails painted like that. Orange is tacky. Red is his favorite color!
h/t HuffingtonPost
This article was originally published on