At A Loss For Words To Express How You're Feeling This Week? Use Amber Tamblyn's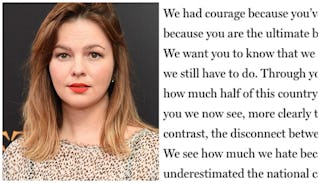 Image via Jamie McCarthy/ Getty Images
Amber Tamblyn writes a powerful letter that nails how so many women are feeling this week
"Through you, our eyes have been opened and we cannot un-know how much half of this country values women—including women themselves." This is one of the many powerful points Amber Tamblyn made in an open letter to Hillary Clinton yesterday — a letter that cuts to the core of how so many of us are feeling this week.
"We woke up this morning and texted each other pictures of our broken, puffy faces," Tamblyn writes of the morning after the election. "We wrote to each other about our children, who awoke in the middle of the night with nightmares about walls being built. We wrote to each other about how we had to explain to our daughters how a man who has sexually assaulted women just became the president of the United States. We wrote to each other as pregnant women, fearful of what the future holds, and what it no longer holds. We called each other with anger, with newfound strength, with a potent new understanding of the consequences of female power. I personally counted 38 texts of this kind sent from girlfriends this morning, and I sent them out in return."
We feel a painful solidarity this week. We know Hillary's pain. We know it. Those of us who have been passed over for jobs. Those of us who've been called "bossy" or "shrill" instead of "passionate leaders." Those who have done the job not just as good, but better than our male counterparts and still haven't been recognized. Hillary has 30 years of experience in politics. She's a measured leader. She's been in The White House. She knows foreign policy inside and out. And she lost because half of America has more faith in a reality TV star with no political experience whatsoever. Hillary's loss was a blow to all of us who've been undervalued.
"Your candidacy was the mirror onto which the country reflected its giant, nasty girl love and its nasty girl hate, and you took it all for us over the course of this election," Tamblyn writes. "You became the star by which we will navigate our futures, a satellite that orbits us and the women that come after us, a marker of all the work we've done and all the work we still have left to do."
Yesterday, you may have seen some very distraught-looking women. There's really no other way to describe the look on their faces than simply "defeat." It was a look of defeat. We were defeated. And it's okay to admit that. But that look — that withdrawn faraway look — stings. It almost stings worse than the loss itself. I personally couldn't see another woman without tears welling up in my eyes. Because I know that look. It's disbelief. We were worthy. We were better. We had this. What happened? If those looks could be captioned, that's what you'd read.
"We want you to know that we see the work you have done, and we now know the work we still have to do," she writes. "Through you, our eyes have been opened and we cannot un-know how much half of this country values women—including women themselves. Through you we now see, more clearly than ever, our own connections to each other, and by contrast, the disconnect between us."
The most difficult part of this loss for many of us is the knowledge of how many women voted for Trump. Our bodies, our liberties, our rights — they're being betrayed by our own army. And that is a tough pill to swallow. What Hillary represented to many of us was the ability to finally be recognized for all of our accomplishments. For some sort of national co-sign that women are, in fact, equal.
We didn't get that. But that's okay, because through the fight we realized that the revolution isn't in the recognition. It's in the fire burning inside each of us — and no one election can extinguish that, no matter how defeated we feel this week.
We get up. That's what women do.
"You are a major part of a revolution that has been grinding inside each and every one us for generations. You were the person we could collectively point to and finally say, 'There. That is how our power manifests. That is how our power threatens. That is how our power is mythologized. That is how our power is taken from us. That is how our power is earned. That is how our power will be reborn, handed down, and strengthened. That is how our power is dangerous, in the best possible way. That is how our power empowers.'"
"I see you, Hillary Clinton. I see you. Thank you for seeing us."
[free_ebook]
This article was originally published on