Amber Tamblyn Calls Out Rose McGowan For 'Shaming' Fellow Actresses
by Cassandra Stone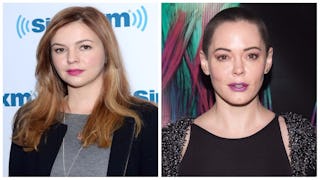 Image via Getty
Tamblyn defended the decision to wear black to the Golden Globes
Among the many lessons the #MeToo movement has taught us, it's that there's no blueprint for navigating how victims handle trauma. Now that many women are no longer suffering in silence, emotions are (understandably) running high. Rose McGowan, one of the first victims to speak publicly about Harvey Weinstein, recently attacked fellow actresses who planned to protest the sexual misconduct in Hollywood at the Golden Globes next month by wearing black gowns.
Actress and fellow #MeToo activist Amber Tamblyn was having none of it, and called McGowan out on Twitter for "shaming" women.
In a since-deleted tweet, McGowan lashed out about the planned Golden Globes protest:
"Actresses, like Meryl Streep, who happily worked for The Pig Monster, are wearing black @GoldenGlobes in a silent protest," she tweeted. "YOUR SILENCE is THE problem. You'll accept a fake award breathlessly & affect no real change. I despise your hypocrisy. Maybe you should all wear Marchesa." (Marchesa is the fashion line started by Weinstein's wife, Georgina Chapman.)
McGowan's tweet quickly garnered reactions from many, Tamblyn included, who addressed McGowan directly in a Twitter thread.
People on Twitter were quick to applaud Tamblyn for speaking out.
Others felt McGowan's voice still deserves to be heard.
Just like there is no right or wrong way to process trauma, there is no right or wrong way to peacefully protest. If every single actress making an appearance at the Golden Globes wants to wear a black dress, you best believe that makes a statement. It will draw attention. It will make headlines. It will be discussed, in-depth, in fashion roundups and post-award show thinkpieces. Which means it had an effect. And you can't begrudge that, no matter how you feel about it personally.
We'll never know how many people were genuinely unaware of the depths of Weinstein's treachery. McGowan slammed Meryl Streep in her original attack, though Streep has repeatedly denied knowing anything about Weinstein's sordid assault history. Streep released a statement to HuffPo yesterday acknowledging McGowan's words:
"It hurt to be attacked by Rose McGowan in banner headlines this weekend, but I want to let her know I did not know about Weinstein's crimes, not in the 90s when he attacked her, or through subsequent decades when he proceeded to attack others."
We can't blame Rose McGowan for her anger; at her alleged rapist, Weinstein, or at the industry that blacklisted her. But as Tamblyn points out, attacking fellow victims and supporters won't help create change.
For her part, McGowan did offer a public apology after speaking with Tamblyn.
This article was originally published on