Amber Teething Necklaces Are Dangerous Nonsense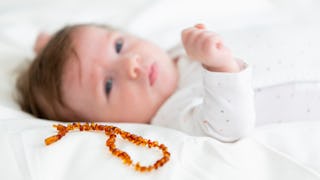 Image via Epiximages/Getty Images
The FDA is warning parents to stay away from amber teething necklaces
Parents with miserable, teething babies would basically do anything to make the pain stop — up to and including, apparently, putting a literal choking hazard around their infant necks in the hopes that the magic contained in the jewelry would put an end to all the suffering.
Spoiler alert: it will not.
That's because trendy amber teething necklaces are a sham and even the FDA agrees. They put out a statement yesterday making note of not just the dangers of the necklaces when worn by babies — but the lack of evidence that they have any actual benefits. "The FDA has received reports of death and serious injuries to infants and children, including strangulation and choking, caused by teething jewelry, such as amber teething necklaces," the statement reads.
"We know that teething necklaces and jewelry products have become increasingly popular among parents and caregivers who want to provide relief for children's teething pain and sensory stimulation for children with special needs. We're concerned about the risks we've observed with these products and want parents to be aware that teething jewelry puts children, including those with special needs, at risk of serious injury and death," said FDA Commissioner Scott Gottlieb, M.D.
But what should desperate parents do when their teething baby is in discomfort? "Consumers should consider following the American Academy of Pediatrics' recommendations of alternative ways for treating teething pain, such as rubbing inflamed gums with a clean finger or using a teething ring made of firm rubber," Gottlieb advises. "Given the breadth of the market for these teething necklaces and jewelry, we're sharing this important safety information directly to consumers in order to help prevent injuries in infants and kids."
As far as the risks? They're serious. Strangulation, choking, injury to the mouth, and infection are all possible hazards of letting a baby wear an amber teething necklace. The FDA points out that choking can occur if the necklace or bracelet breaks and a bead enters the child's throat or airway. The strangulation risk is also very real as the necklace can not only twist and become too tightly wrapped around the neck, it can also catch on other objects including parts of the baby's crib.
Then, the FDA dives into the pseudo-science cited in the amber jewelry's supposed benefits. "In addition to choking and strangulation concerns, amber teething necklaces contain a substance called succinic acid, which allegedly may be released into an infant's blood stream in unknown quantities. Manufacturers of these products often claim succinic acid acts as an anti-inflammatory and relieves teething and joint pain. The FDA has not evaluated these claims for safety or effectiveness and recommends parents not use these products."
Lara McKenzie, principal investigator in the Center for Injury Research and Policy at Nationwide Children's Hospital, backed that up telling TODAY, "There is really no evidence that when succinic acid is applied to the skin that it can be absorbed by the body. And there is no evidence that it relieves pain."
Moreover, succinic acid only seeps from Baltic amber when heated to a temperature of 200 degrees or more. A child's skin would never get that hot, therefore, this won't ever work.
The FDA mentioned an 18-month-old who died after being strangled to death by his amber teething necklace during a nap. The risks are nothing to mess with, which is why they're speaking out.
And why parents should listen.
This article was originally published on